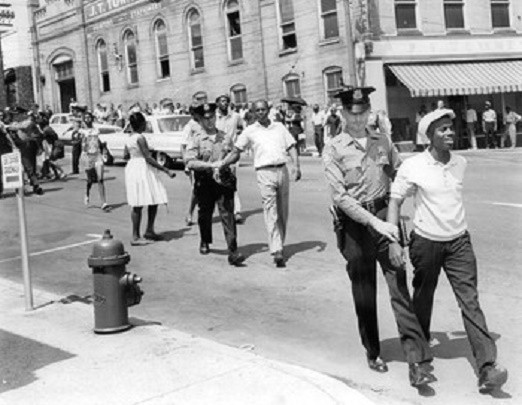 The most violent episodes of the civil rights movement in Virginia took place in Danville, Virginia during the summer of 1963.
About 47,000 people lived in Danville during the 1960s. Most of the citizens were employed either the textiles or tobacco industries and a third of the population were African American. Throughout the summer nearly 600 protesters were arrested in Danville.
Between May 31 and June 5, 1963, members of the African American community came together as the Danville Christian Progressive Association and marched to the city municipal building. The group sought equal employment for African Americans in city jobs. Soon the Student Nonviolent Coordinating Committee (SNCC) was invited to help organize protestors. On June 10 in two separate marches, groups of about 40 and of about 60 demonstrators, including high school students, marched on the municipal building. Police used high-powered hoses and nightsticks on the protestors and made mass arrests.
The protests in Danville continued through the summer, while the fight for African American civil rights blazed throughout the South. Danville's white leaders ignored the protestors' demands. To intimidate and insult the demonstrators they flaunted the white establishment's power, indicting activists under a pre–Civil War statute against "inciting the colored population to acts of violence and war against the white population."
source:
https://www.encyclopediavirginia.org/Danville_Civil_Rights_Demonstrations_of_1963