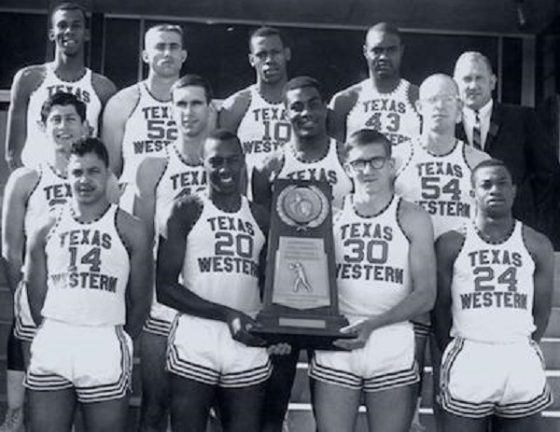 The 1965–66 Texas Western Miners basketball team represented Texas Western College, now known as the University of Texas at El Paso (UTEP), and was coached by Hall of Fame coach Don Haskins. The team made history by winning the 1966 NCAA University Division Basketball Tournament in 1966, becoming the first team with an all-black starting lineup to win an NCAA basketball national championship.
The Miners consisted of seven African Americans: Bobby Joe Hill, Orsten Artis, Willie Worsley, Willie Cager, Nevil Shed, Harry Flournoy, and David Lattin; four Anglo Americans: Jerry Armstrong, Louis Baudoin, Dick Meyers, and Togo Railey; and one Mexican American, Dave Palacio.
On March 19, 1966, the Miners defeated Kentucky (a team that was all white until 1969) 72–65 in the historic championship game, played at Cole Field House in College Park, Maryland. This victory, according to sports writers and historian, Charles Martin, "was a watershed event" because it encouraged other schools to recruit African American players.
In 2006, the movie Glory Road, depicting the significance of this game, was released. The following year, the team was inducted into the Naismith Memorial Basketball Hall of Fame. On February 6, 2016, the now University of Texas El Paso Miners held a reunion for the 1966 players at the Don Haskins Center.
source:
http://www.blackpast.org/aaw/texas-western-miners-1966
https://en.wikipedia.org/wiki/1965%E2%80%9366_Texas_Western_Miners_basketball_team