Solomon Northup was a free black man living in New York on his own land. He grew up in Washington County and did odd jobs while he lived there. He was eventually contracted to carry materials on the canal and often played his fiddle while traveling. While in Washington, D.C., Northup was drugged, kidnapped, and sold into slavery in the south.
Slave traders shipped him to New Orleans, where he was purchased by a planter and held as a slave for twelve years in the Red River region of Louisiana. He later met a Canadian working on his plantation who helped get word of Northup's situation back to New York, as state law provided aid to free New York citizens kidnapped into slavery. Family and friends enlisted the aid of the Governor of New York, Washington Hunt, and Northup regained his freedom on January 3, 1853.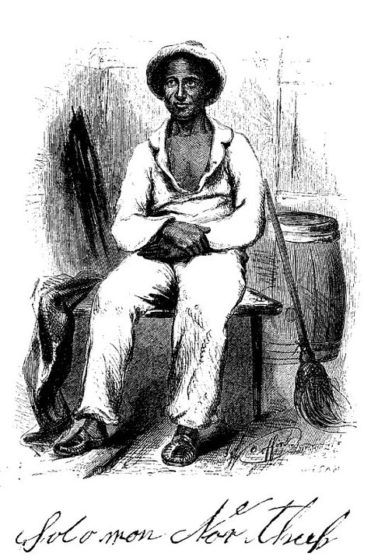 Slave trader James H. Birch was arrested and tried, but acquitted because the District of Columbia law prohibited Northup, as a black man, from testifying against white people. Later, in New York State, his northern kidnappers were located and charged. However, the case was tied up in court for two years due to jurisdictional challenges and finally dropped when Washington, D.C., was found to have jurisdiction. The D.C. government did not pursue the case. Those who had kidnapped and enslaved Northup received no punishment.
When Northup returned to the north, he wrote and published a memoir, Twelve Years a Slave (1853). He also gave lectures on behalf of the abolitionist movement, but he disappeared from history records in 1857. Some people thought he may have been kidnapped once again, but historians believe he would have been considered too old and would not be worth much as a slave. It is believed he was still alive in 1863 because of a letter received, but his whereabouts were unknown. Northup was never heard from again.
sources:
http://spartacus-educational.com/USASnorthup.htm
http://www.smithsonianmag.com/history/new-york-times-1853-coverage-solomon-northup-hero-12-years-slave-180949944/?no-ist