Charles H. Wesley was an American author, historian, educator, and minister. Wesley published over 15 books on African-American history and once served as the president of Wilberforce University. He was also the founding president of Central State University in Ohio.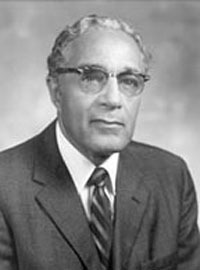 Wesley was born on December 2, 1891, in Louisville, Kentucky, and was the only child to Matilda and Charles Snowden Wesley. He went on to enroll at Fisk University, where he graduated in 1911. He later earned a master's degree from Yale University in 1913. He was the fourth Black person to receive a Ph.D. from Harvard University, and by 1928, he received his Doctor of Divinity from Wilberforce University.
Wesley became an ordained minister of the African Methodist Episcopal Church (AME). He also had an academic career as a professor of history and wrote a total of more than 15 books on African-American history and political science. He served as the Dean of the Liberal Arts and the Graduate School at Howard University.
In 1942, Wesley was called as President of Wilberforce University (an AME-affiliated university) in Wilberforce, Ohio, serving until 1947. That year, he founded Central State University across the street from Wilberforce. He served as its president until 1965, when he returned to Washington, D.C.
Wesley was extremely active among several African-American fraternities during and after college. At Alpha Phi Alpha, he was elected as the 14th and a five-term General President, and later as a National Historian for seven decades. In 1929, he wrote The History of Alpha Phi Alpha, updating it in many new editions.
Wesley was also an archon of Sigma Pi Phi. He was a Prince Hall Freemason, a Sovereign Grand Inspector General of the United Supreme Council (Southern Jurisdiction, Prince Hall). Wesley died in 1987.
sources:
http://www.freemasonry.bcy.ca/biography/wesley_c/wesley_c.html
Historical Profile: Charles H. Wesley (1891-1987)