Sonny Terry was a renowned harmonica player of his time. He developed a unique sound by blending folk and blues together.
Terry was born Saunders Terrell in Greensboro, North Carolina, in 1911. His parents were farmers, and his father had a love for playing the harmonica and often played gigs at local parties. Terry began singing at church tent meetings as early as six years of age. He enjoyed hearing his father play the harmonica and persuaded him to teach him as well.
After two separate accidents, Terry lost most of his vision in both eyes by the age of 16. Due to this, he had to abandon his plans to become a farmer and instead decided he would be a professional singer and harmonica player.
Terry's family eventually moved to Shelby, North Carolina, where he was exposed to blues for the very first time. He learned the southeast "Piedmont" style and performed songs by local musicians throughout the region. He began playing in a variety of venues, such as a white group at local fish fry shops, on the street for coins tossed in his hat, and in a "medicine show" that performed in Shelby and nearby communities.
Terry often visited his brother in Wadesboro, North Carolina, which is where he met blues guitarist, Blind Boy Fuller. Fuller urged Terry to move to Durham, where he introduced the talented musician to manager J.B. Long. The two men later recorded together and performed wherever they could. Terry's unique style, dubbed 'Whoopin'," turned his instrument into a pure expression of his feelings. He vocalized through the harmonica, used it to imitate the sounds of trains and animals, and punctuated his playing with whoops and cries of passion, complemented by an ethereal falsetto singing voice.
After the death of Fuller, Terry had established a name for himself as a recording artist. He also made a recording for the Library of Congress. By the late 1950s, Terry was performing on the albums of well-known artists, including Harry Belafonte and Leadbelly, as well as on the soundtrack of "The Color Purple." He was inducted into the Blues Foundation Hall of Fame in 1986. the same year of his death.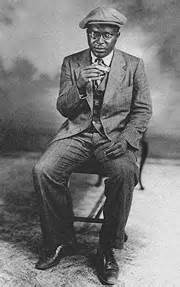 sources:
http://www.metrolyrics.com/sonny-terry-pictures.html
https://en.wikipedia.org/wiki/Sonny_Terry
http://blackhistorynow.com/sonny-terry/