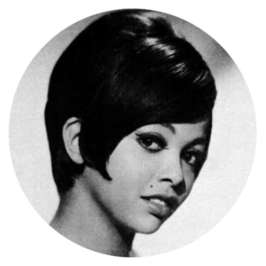 Tammi Terrell was an African-American Rhythm and Blues singer. She made her debut at the age of 15 with the song "If You See Bill."
Terrell was born as Thomasina Winifred Montgomery on April 29, 1945, to Jennie Graham and Thomas Montgomery in Philadelphia. After winning a number of local talent contest by the age of 13, she was regularly opening club dates for artists such as Gary "U.S." Bonds, and Patti LaBelle and the BlueBelles. In 1961 at the age of 15, she was discovered by producer Luther Dixon and signed to Specter/Wand Records.
In 1963, after James Brown caught her live show, she was signed to his Try Me label, issuing "I Cried." One year later while touring with Brown's live revue, "If I Would Marry You" appeared on Checker, during which time she also studied Pre-Med at the University of Pennsylvania. While performing with Jerry Butler in Detroit in 1965, Terrell was spotted by Harvey Fuqua and was introduced to Motown's' Berry Gordy Jr., making her label debut with "I Can't Believe You Love Me."
She later appeared with Marvin Gaye, who had recorded with Mary Wells and Kim Weston. Gaye and Terrell had an immediate connection. Later that year, they entered the pop charts with timeless hits, including "Ain't No Mountain High Enough" and "Your Precious Love."
In 1965, Terrell began a romance with then-Temptations singer David Ruffin. The following year, Ruffin surprised Terrell with a marriage proposal. However, Terrell was devastated once she learned that Ruffin had a wife, three children, and another girlfriend, also living in Detroit. This led to the couple having public fights.
Terrell began to have severe migraines in 1967. She collapsed in Gaye's arms while in concert at Virginia's Hampton-Sydney University, after which she was rushed to the hospital and was diagnosed with a brain tumor.
The tumor forced Terrell to retire from performing. However, she continued to record with Gaye. Terrell's health continued to deteriorate. By early 1970, she was confined to a wheelchair, suffered from blindness and hair loss, and weighed 93 pounds. Following her eighth and final operation on January 25, 1970, Terrell went into a coma. She died on March 16 due to complications from brain cancer, a month short of her 25th birthday.
sources:
http://www.history.com/this-day-in-history/motown-soul-singer-tammi-terrell-dies
http://aaregistry.org/historic_events/view/tammi-terrell-american-idol-look-no-further