By Jim Barnett and H. Clark Burkett
In the decades prior to the American Civil War, market places where enslaved Africans were bought and sold could be found in every town of any size in Mississippi.  Natchez was unquestionably the state's most active slave trading city, although substantial slave markets existed at Aberdeen, Crystal Springs, Vicksburg, Woodville, and Jackson.
The 19th century slave trade in Mississippi was linked to the growth of the textile industry in England, which had created a voracious market for cotton by the end of the18th century. The invention of the cotton gin in 1793, the advent of the steamboat in 1811, and the introduction of the Mexican variety of cotton into the United States in the 1820s, all helped expand the plantation society in Mississippi after its statehood in 1817.
Cotton planters in Mississippi and in neighboring states quickly found that slave labor made their business a highly profitable enterprise.  Although a federal law passed in 1807 prohibited the further importation of Africans, a potential slave labor force was already available in the older slave states.  Many slaves were living on the century-old tobacco plantations in the Chesapeake Bay area, where agricultural productivity was declining while the slave population increased.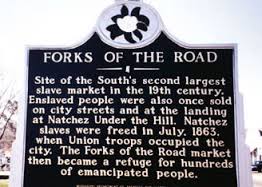 Natchez played a significant role in the southward movement of the existing slave population to the waiting cotton plantations of the Deep South. Slave sales at Natchez were held in a number of locations, but one market place soon eclipsed the others in the number of sales. This was the market known as "The Forks of the Road," located at the busy intersection of Liberty Road and Washington Road about one mile east of downtown Natchez. (Today, Washington Road is named "D'Evereux Drive," which changes to "St. Catherine Street" at the Liberty Road intersection.) The market site occupied a prominent knoll, straddling what was then the city's eastern corporation line.
Source:http://mshistorynow.mdah.state.ms.us/articles/47/the-forks-of-the-road-slave-market-at-natchez