The colored woman feels that a woman's cause is one and universal; and that not till the image of God, whether in parian or ebony, is sacred and inviolable; not till race, color, sex, and condition are seen as the accidents, and not the substance of life; not till the universal title of humanity to life, liberty, and the pursuit of happiness is conceded to be inalienable to all; not till then is woman's lesson taught and woman's cause won—not the white woman's, nor the black woman's, not the red woman's, but the cause of every man and of every woman who has writhed silently under a mighty wrong. — Anna Julia Cooper
Anna Julia Cooper was born on August 10, 1858, in Raleigh, North Carolina. Her mother was a slave and belonged to Cooper's father. By the age of 10, Cooper was enrolled at St. Augustine's Normal School and Collegiate Institute. She excelled in her studies and became a tutor to the younger students. Her funds she earned from tutoring also helped pay to further her education.
After graduating, she taught at university-level courses before being awarded an M.A. in mathematics from Oberlin College. She later moved to Washington, D.C., to teach high school. While in the nation's capital, she pursued her writing and oratory skills as an advocate for gender and racial equality.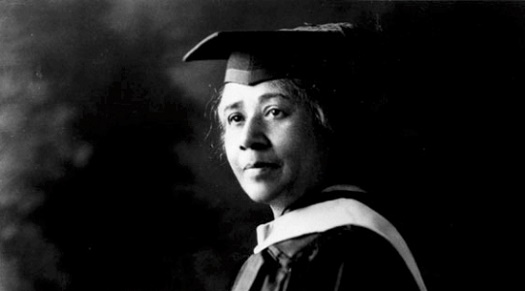 Cooper wrote A Voice from the South in 1892, which was a collection of essays that addressed a range of topics including education, segregation, poverty, and women's suffrage. Cooper was not only an author and educator, but she was an eloquent speaker as well. Some notable speeches of hers were delivered at the World's Congress of Representative Women in Chicago in 1893. Although she went on to gain fame for her writings and speeches, she almost always used her prominence to enhance advocacy for social change.
In 1914, at the age of 56, Cooper started to pursue a doctoral degree at Columbia University. However, she was forced to interrupt her studies in 1915 when she adopted the five children of her late half-brother upon their mother's death. Later on, she was able to transfer her credits to the University of Paris-Sorbonne; however, that instiution did not accept her Columbia thesis, an edition of Le Pèlerinage de Charlemagne. Over the course of a decade, she was able to research and compose her dissertation, completing her coursework in 1924.
Cooper defended her thesis. The Attitude of France on the Question of Slavery Between 1789 and 1848 in 1925. At the age of 65, Cooper became the fourth black woman in American history to earn a Doctorate of Philosophy degree. Cooper was 105 at the time of her death in 1965. She was featured on a postal stamp in 2009.
sources:
http://www.blackpast.org/1893-anna-julia-cooper-womens-cause-one-and-universal
https://en.wikipedia.org/wiki/Anna_J._Cooper
https://nccultureblogger.wordpress.com/tag/stories-from-north-carolinas-black-history/