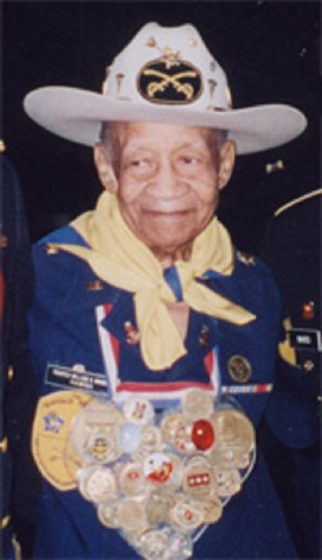 William Henry Waddell was one of the two oldest surviving Buffalo Soldiers at one time. Waddell was also a leader and pioneer in the field of veterinary medicine.
Waddell was born in 1908 in Richmond, Virginia, where his father worked as a horse driver and his mother as a domestic. Many of Waddell's early experiences pushed him to excel in school and to pursue a career as a veterinarian.
He was sent to a boarding school in Manassas, Virginia, at the age of 13. He found that living close to Washington, D.C., presented a few more opportunities for him. He was slso able to visit Howard University and compete in athletics against high schools in the nation's capital.
After earning a degree from Lincoln University, Waddell attended the University of Pennsylvania School of Veterinary Medicine. He received his doctorate in 1935 and became one of the first African Americans to practice veterinary medicine in the United States. Eventually, he also became the first African American veterinarian to practice in the State of West Virginia and the first to become a member of the American Veterinary Medicine Association.
Waddell joined the R.O.T.C while at the University of Pennsylvania. After graduation he was assigned to the 9th Calvary stationed at Fort Clark in Brackettville, Texas, where he cared for the fort's over 8,000 horses. During World War II, Waddell served as a veterinary officer in the Army's 9th Cavalry, 5th Brigade, in North Africa and Italy.
After the army, he found work at the Tuskegee Institute. He worked along with George Washington Carver. When Waddell left Tuskegee he practiced in Morgantown, West Virginia. He then moved to Fargo, North Dakota, where he supervised the eradication of tuberculosis in cattle in the great Northwest.
sources:
http://www.buffalosoldiersresearchmuseum.org/research/books/waddell.htm