Alice Jones was the daughter of a working-class English immigrant family. Her mother was white and her father was mixed. Leonard "Kip" Rhinelander was the son of one of the richest men in New York. He was attending the Orchard Stamford in Connecticut, an inpatient clinic to help him overcome extreme shyness and stuttering. He met Jones in 1921, and the two were inseparable. The two married in New Rochelle, New York, on October 14, 1924, when Rhinelander was 21 years old.
Although the two were in love, their marriage soon turned into a nationwide controversy. Newspapers ran headlines such as "Blue Blood Weds Colored Girl." Rhinelander's father pushed for an annulment of the marriage in just a few weeks, and wanted Jones charged with deceiving her new husband about her true race identity.
Prosecutors argued that if Rhinelander had known that Alice was "not" white, there was no way he would have married her. Love letters written by Jones to Rhinelander were read aloud in the courtroom. Jones was also forced to show her naked body to the judge and all-white jury. By the appearance of her nipples, back, and legs, the jury agreed Leonard must have known prior to the marriage that she was not completely of European descent. To the jury's credit, the annulment was denied, the marriage upheld.
Although, Jones looked white and carried herself as a white woman during those times, her father was clearly part black. By law, if Jones' father was black, by the "One Drop Rule" she was black.
In 1929, Jones agreed that her marriage to Rhinelander should come to an end. Rhinelander tried to defend his wife, but his family won, urging the two to separate "because of the trouble with the Ku Klux Klan." The judge of Nevada erased the marriage and, by record, Rhinelander and Jones were never married. Rhinelander paid Jones a lump sum of $32,500 and $3,600 per month for life. Rhinelander kept her husband's last name and outlived him by 50 years.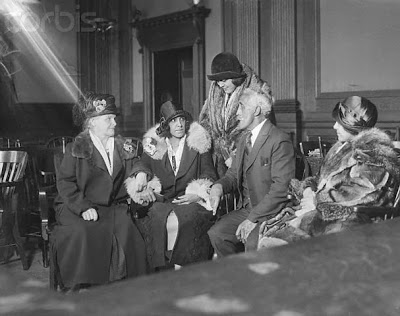 source:
http://nymag.com/news/features/scandals/kip-rhinelander-2012-4/