Derrick Albert Bell, Jr. was a renowned civil rights attorney. He was involved in the desegregation of more than 300 schools. Bell made headlines by quitting several high-profile jobs on the grounds of ethical protest.
Bell was born in Pittsburgh, Pennsylvania, on November 6, 1930. He earned a bachelor's degree in 1952 from Duquesne University, Pittsburgh, and an LL.B. in 1957 from the University of Pittsburgh Law School, where he was the only African-American student.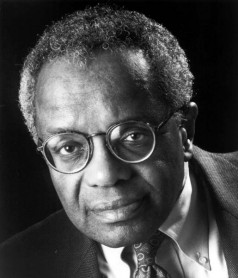 Thurgood Marshall recruited Bell to join the NAACP Legal Defense Fund, where he oversaw 300 school desegregation cases. In 1966, Bell was named Deputy Director of Civil Rights at the U.S. Department of Health, Education, and Welfare, before becoming a teacher at USC Gould School of Law and director of USC's Western Center on Law and Poverty in 1968.
He was hired in 1969 as a lecturer at Harvard Law School and became the institution's first tenured African-American professor. Bell was appointed as the dean of the University of Oregon School of Law in 1980, but resigned in 1971. He also served as a visiting professor at the New York University School of Law, and received various accolades throughout his career.
Bell established a course in civil rights law and wrote Race, Racism and American Law, which today is a standard textbook in law schools around the country.
Many people viewed Bell's views on the future of race relations in the United States as controversial. He published a book that outlined these views in 1992, "Faces at the Bottom of the Well," which stated that he saw racism as "an integral, permanent, and indestructible" feature of American life. Due to what he called the "interest convergence dilemma," he argued that whites would never eliminate racism unless it was in their own self-interest to do so.
Derrick Bell passed away on October 5, 2011. After his death, Dean of NYU Richard Revesz said, "For more than 20 years, the law school community has been profoundly shaped by Derrick's unwavering passion for civil rights and community justice, and his leadership as a scholar, teacher, and activist."
source:
http://www.blackpast.org/aah/bell-derrick-albert-jr-1930-2011