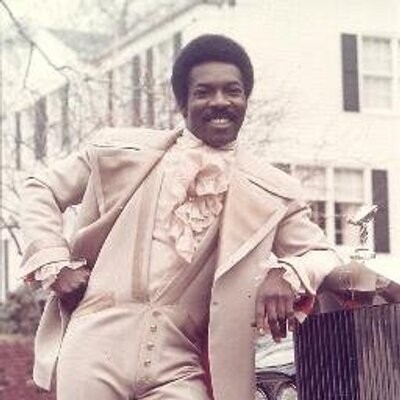 Wilson Pickett was raised singing gospel in local churches. As a teenager, he moved to Detroit, where he began blending gospel-style with rhythm and blues which resulted in "the deepest, funkiest soul music."
Pickett was born March 18, 1941 in Prattville, Alabama. He was the fourth of 11 children and called his mother "the baddest woman in my book." His mother used anything to hit him with including skillets and stove wood. Okay— (one time I ran away) and cried for a week. Stayed in the woods, me and my little dog." Pickett eventually left to live with his father in Detroit in 1955.
In 1955, Pickett joined the Violinaires, a gospel group. The group accompanied the Soul Stirrers, the Swan Silverones, and the Davis Sisters on church tours across the country. After singing for four years in the popular gospel-harmony group, Pickett, lured by the success of gospel singers who had moved to the lucrative secular music market, joined the Falcons in 1959.
Pickett recorded the song "Let Me Be Your Boy" with the Primettes as background singers. The song is the B-side of his 1963 single "My Heart Belongs to You."
Pickett's Atlantic career began with the self-produced single, "I'm Gonna Cry." Looking to boost Pickett's chart chances, Atlantic paired him with record producer Bert Berns and established songwriters Barry Mann and Cynthia Weil.
Pickett's personal life was troubled. In 1991, he was arrested for allegedly yelling death threats while driving a car over the front lawn of Donald Aronson, the mayor of Englewood, New Jersey. Pickett agreed to perform a benefit concert in exchange for having the charges dropped. The following year, he was charged with assaulting his girlfriend. Pickett was repeatedly honored for his contributions to music. During his career, he made more than 200 recordings, 50 of which made the rhythm and blues and pop charts. He was often referred to as the "The Wicked Pickett" because of his uninhibited style, raw energy and distinctive sound.
In addition to being inducted into the Rock and Roll Hall of Fame in 1991. Pickett died from a heart attack on January 19, 2006, in Reston, Virginia. He was 64.
source:
https://en.wikipedia.org/wiki/Wilson_Pickett
https://www.hmdb.org/marker.asp?marker=70804