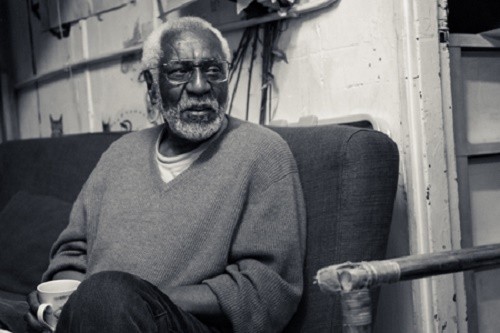 Mark Cook was born and raised in Seattle. He grew up in a poor family and moved frequently from school to school. At the age of 17, he was arrested, sent to a state mental hospital, and subsequently abused by the facility staff. Later, he served a sentence for armed robbery.
After being released in 1967, Cook became involved in a growing leftist paramilitary underground in Seattle, which perpetrated a series of high profile bombings and robberies. A victim of a troubled childhood, he had been in and out of jail ever since he became an adult.
He co-founded the Black Panther Party chapter in the Walla Walla State Penitentiary in Tacoma and served as its Lieutenant of Information for many years.
In 2000, he was released after serving 24 years in prison for his participation in a bank robbery and jail break associated with the George Jackson Brigade in Seattle.
Through underground social circles in Seattle, Cook met the members of the George Jackson Brigade, including local '70s radicals Ed Mead, John Sherman, and Rita "Bo" Brown. The Brigade was a diverse group of society's marginalized citizens.
In January of 1976, four members of the Brigade "expropriated" a bank in Tukwila. A plan to divert police using fake bombs planted in different hotels across town failed. The cops arrived early. Founding Brigade member Bruce Seidel was killed as he left the bank. Police captured both Mead and Sherman, who was shot in the face.
Two months later, Cook and some other revolutionaries plotted to free Sherman outside the Harborview Hospital. Dressed as a doctor in scrubs, Cook was the main actor, assigned with subduing the police officer guarding Sherman. It was a plan that went awry.
Cook ended up shooting a cop. "If I had wanted to kill him," Cook says pointedly, "I still had five more bullets in my gun."
The officer lived. Still, the incident made Cook queasy. "[After I shot him], I got that feeling in my stomach. Is this person really hurt? It raises the question: Are you for or against violence?"
While he freely admits to having committed many crimes in his life, Cook claims that he did not participate in the 1976 robbery, even as a getaway driver. He was ultimately convicted on both federal and state charges for the robbery and the rescue mission. The police officer, who survived Cook's bullet, identified Cook as his attacker. Evidence against Cook for his role in the Tukwila bank robbery was more shaky. A drug dealer and his girlfriend were the main witnesses against him, and they both received $20,000 from the government for their testimony.
One of Cook's most politicized things he did during that time was attaining federal grants so that he could involve prisoners and ex-cons in business projects, like re-upholstering furniture or converting government documents to microfilm. He was giving his fellow prisoners both financial and psychological independence — a progressive, not revolutionary, idea.
source
http://depts.washington.edu/civilr/cook.htm