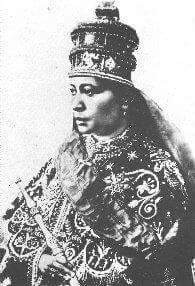 Empress Zewditu died 2 days after her husband, Ras Gugsa Welle was killed in battle. She was 53.
Zewditu I was Empress of Ethiopia from 1916 to 1930. The 1st woman head of an internationally recognized state in Africa in the 19th and 20th centuries, her reign was noted for the reforms of Tafari Makonnen (later Emperor Haile Selassie I) and for her strong religious devotion.
It is known today that Zewditu suffered from diabetes, and was seriously ill with typhoid, but it is not universally agreed that this was the cause of her death. According to some popular histories, Zewditu died of shock and grief at hearing of her husband's death, but other accounts contradict this, claiming that Zewditu was not informed of the battle's outcome before her sudden death. Some diplomatic sources in Addis Ababa reported at the time that the fever stricken Empress was immersed in a large container of fridgidly cold holy water to cure her of her illness, but that her body went into shock and she died shortly thereafter. The timing of her death immediately after news of the outcome of the battle reached Addis Ababa has caused considerable speculation as to her cause of death.
Some, particularly conservative critics of her successor, Emperor Haile Selassie, allege that once the rebellion had been decisively defeated, he or his supporters felt safe in poisoning Zewditu. Speculation as to the cause of Zewditu's death continues today.
Empress Zewditu was succeeded on the throne by Negus Tafari, who took the name of Emperor Haile Selassie.
Read more stories like this at: Daily Black History Facts