In 1912, two different black-on-white rapes allegedly occurred in Forsyth County, Georgia. They threw the area into racially segregated chaos and changed the county for years.
Ellen Grice was a young 22-year-old white woman who claimed that a black man came into her bedroom one night and attempted to rape her. He reportedly fled the room by jumping out a window when family member opened the door.
Days later, the Forsyth County sheriff, William Reid, arrested five black men in connection with the case: Isaiah Pirkle, Johnny Bates, Tony Howell, Fate Chester, and Joe Rogers. Tony Howell was actually the one accused of the crime, but the other men claimed he was with them at the time. All five men were put in jail in the Cumming town square.
On September 7th, all of the black churches in the county were attending a barbeque event held just outside the town square when word got to them about the incident, which agitated everyone at the event. A black preacher, Grant Smith, was overheard saying that Ellen Grice had just been in bed with a black man by her own choice and had called it rape. As soon as the white men nearby heard about the comment, Smith was attacked and almost beaten to death. He was whipped with horse buggy whips on the street in front of the courthouse.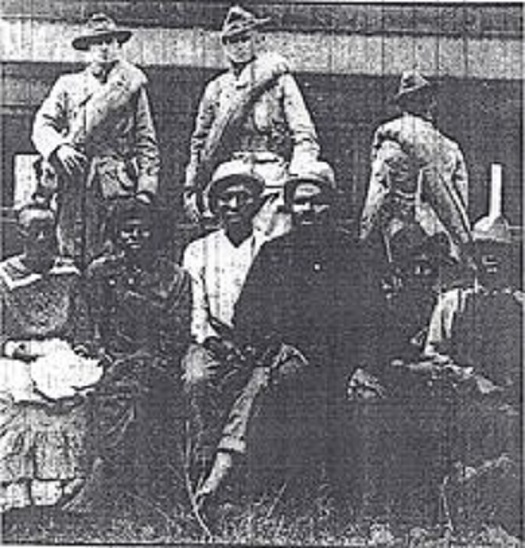 A small crowd at the event began to grow in numbers to almost 200 people. The group demanded to either burn Smith alive or hang him immediately. Sheriff Reid and local ministers tried to make appeals to the crowd to leave, but they tried to storm the courthouse and take Smith by force. Once they were inside, they could not reach Smith as Deputy Mitchell Lummus had locked him in the large courthouse vault. However, word started to circulate that Black men were planning to dynamite the town. The White residents of the area sent their families home, and began to patrol the town with guns.
Governor Joseph Mackey Brown was called for help. He sent 23 members of the National Guard from Gainesville, Georgia to prevent a race riot. Later that day, Sheriff Reid sent the five black men in jail and Smith to the Cobb County Jail in a nearby town for safety. Shortly after arrival, a lynch mob that came from Cumming began to form outside of the jail. Governor Brown needed to intervene again, so he arranged for the six men to be taken to the Fulton County Jail in Atlanta.
The following day, another assault reportedly occurred; this time, a black man, Ernest Cox allegedly attacked 18-year-old "Sleety Mae Crow." 16-year-old Cox struck the young woman from behind and dragged her in the woods. As Ernest Cox confessed to the crime, he was ultimately taken to Atlanta in order to prevent a lynching.
source: