Hailing from Senegal, Ayuba Suleiman Diallo became known for his memoirs which documented his journey in the Atlantic slave trade of the 18th century. He was born to an influential Muslim family of clerics in 1701. His grandfather was responsible for the establishment of Bundu in what is now Senegal.
CAPTURE
In his very late 20s, Ayuba was caught in the slave trade. As it would happen, around 1730 he and an interpreter named Loumein Yoas were in the Gambia River area to trade slaves and goods. It's important to know that at this time slave trade had increased in the region and there was peril even for those participating in the trade.
Heading back to Bundu, both Ayuba Suleiman Diallo and Loumein Yoas were captured by the Mandinka who controlled trade in the area. The captors made sure to shave everyone's heads which effectively marked them as sellable. There was an understood clause of sorts that kidnapped people weren't to be traded but war captives were fine.
Eventually, Ayuba and Yoas were sold to the Royal African Company. He managed to inform one of the ship's captains—Stephen Pike—of his status and that he was kidnapped. As proof, a messenger was sent to pay the ransom requested. Unfortunately, the messenger didn't return by the deadline and the two were shipped off to Annapolis, Maryland.
THE CHANCE MEETING
After eventually escaping a Kent Island, Maryland tobacco plantation, he was captured and held at the county's courthouse. He would meet one Reverend Thomas Bluett, a lawyer with the Anglican Society for the Propagation of the Gospel. Bluett gathered that Ayuba wasn't a commoner another captive who spoke an adjacent language was able to translate for the two.
This was when Bluett realized Ayuba was a noble and helped him write a letter to his father in Arabic. It was also around this time he was given the name Job ben Solomon and Bluett began taking down Ayuba's story.
TIME IN ENGLAND
After authenticating the letter, Ayuba was purchased by the director of the Royal African Company, James Oglethorpe—notable for founding the Georgia colony—as a means of holding him. Bluett and Ayuba would head to England in the spring of 1733 and the noble would learn English in the process.  One of the captains involved in his capture arranged for Ayuba's housing in London.
Cautious after hearing rumors that the captain had plans to sell him off to traders who said they could get him back to Bundu, Ayuba talked with Bluett and he ended up residing in Hertfordshire for a while. The process of the Royal African Company to get Ayuba back home made him uneasy. He felt that there could still be a plot to sell him back into slavery. Bluett and others working towards his freedom managed to ease his fears and got him a "freedom in form" document.
While waiting to return, Ayuba would talk with high society and royalty in London. His command of Arabic and English assisted in Hans Sloane's task of organizing Arabic manuscripts with the British Museum.
His appeal to some in England as a kind of celebrity, a few with good intentions, his intellect, some patience, and his use to those in England he was freed in the summer of 1734. Before leaving he was made a member of the Spalding Gentleman's Society.
RETURN TO GAMBIA
Upon to returning Ayuba Suleiman Diallo found that his father died. Also one of his wives remarried since she believed he had died. The land had also been hit by war in those four years. By most accounts, he managed to get back into the life he was pulled from in Bundu.
Two years later in 1736 he was captured by the French and imprisoned. It's believed that since he proved valuable to the British and their economic growth in that part of West Africa he was aligned with the superpower. He was freed after those in Gambia paid for his release.
As for his interpreter Loumein Yoas, Ayuba and Bluett managed to get his freedom in 1738.
FINAL YEARS
He stayed in contact with those in London branch of the Royal African Company to visit the country. He was denied and would pass away in 1773.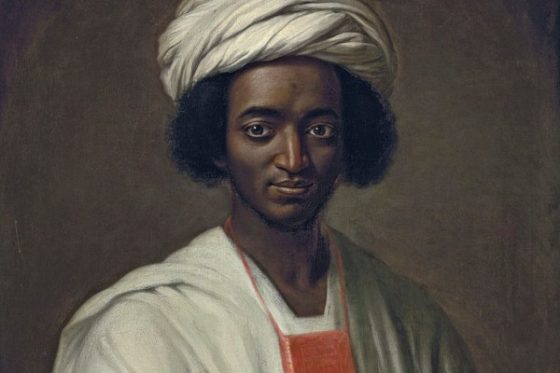 SOURCE
–http://slaveryandremembrance.org/people/person/?id=PP002