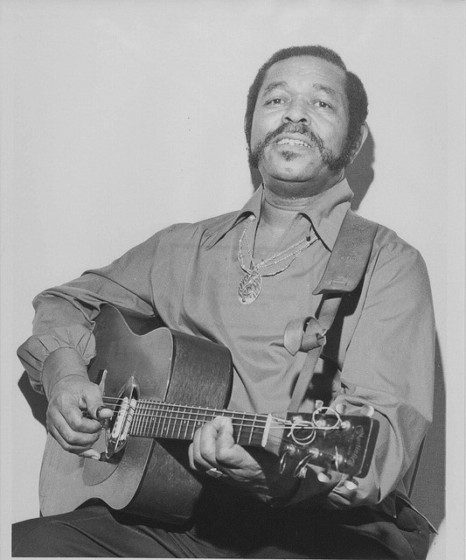 Walter Brown "Brownie" McGhee was an African-American folk music and Piedmont blues singer and guitarist, best known for his collaboration with the harmonica player Sonny Terry.
Brownie McGhee was born in Knoxville, Tennessee, and grew up in Kingsport, Tennessee. At about the age of four he contracted polio, which incapacitated his leg. His brother Granville "Sticks"(or "Stick") McGhee, who also later became a musician and composed the famous song "Drinkin' Wine Spo-Dee-o-Dee," was nicknamed for pushing young Brownie around in a cart.
At age 22, McGhee became a traveling musician, working in the Rabbit Foot Minstrels and befriending Blind Boy Fuller, whose guitar playing influenced him greatly. After Fuller's death in 1941, J. B. Long of Columbia Records promoted McGhee as "Blind Boy Fuller No. 2."
His real success came after he moved to New York in 1942, when he teamed up with Sonny Terry, whom he had known since 1939, when Terry was
Fuller's harmonica player. The pairing was an overnight success. They recorded and toured together until around 1980. As a duo, Terry and McGhee did most of their work from 1958 until 1980, spending 11 months of each year touring and recording dozens of albums.
Despite their later fame as "pure" folk artists playing for white audiences, in the 1940s Terry and McGhee had attempted to be successful recording artists, fronting a jump blues combo with honking saxophone and rolling piano, variously calling themselves Brownie McGhee and his Jook House Rockers or Sonny Terry and his Buckshot Five, often with Champion Jack Dupree and Big Chief Ellis. Late in his life, McGhee appeared in small roles in films and on television. Both he and Terry appeared in the 1979 Steve Martin comedy The Jerk.
McGhee appeared in the television series Family Ties, in a 1988 episode entitled "The Blues, Brother," in which he played the fictional blues musician Eddie Dupre. He also appeared in the television series Matlock, in a 1989 episode entitled "The Blues Singer."
sources:
 http://www.john-meekings.co.uk/sterry.html
https://www.britannica.com/biography/Brownie-McGhee