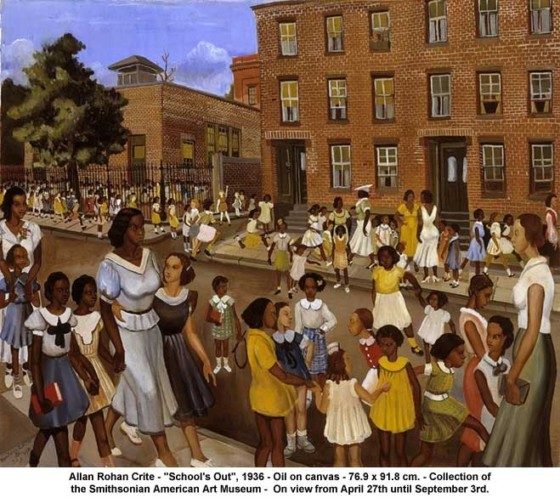 Artist Allan R. Crite is most noted for his work which has been divided into three basic themes: Negro spirituals, religious themes that emphasize non-European aspects of the Bible and general African-American experiences. He has been called "the granddaddy of the Boston arts scene."
Crite was born on March 20, 1910, in North Plainfield, New Jersey. His mother was a poet, who encouraged him to perfect his craft. He showed promise early on, enrolling in the Children's Art Centre at United South End Settlements in Boston and graduating from The English High School in 1929.  He was later accepted to Yale, but instead, he chose to attend the School of the Museum of Fine Arts, from which he graduated in 1936.
He continued his studies at Harvard Extension School, where he completed his studies, receiving an ALB in 1968.
His early paintings depict the daily life of Boston's African-American community, a community that was to be transformed in the following decade by urban renewal and housing projects.  During the 1940s, he began a 30-year relationship with the Boston Naval Shipyard when he took a job as an engineering draftsman.
In the 1950s, Crite lectured on liturgical art and wrote and illustrated books with theological themes telling "the story of man through the black figure."
His works hang in such major American art galleries including, the Smithsonian, the Museum of Fine Arts, Grossman Library, the Art Institute of Chicago, and the Boston Athenaeum, to which he left a substantial collection upon his death in gratitude for his long tenure there as a visiting artist and which now holds the largest public collection of his paintings and watercolors. He was also awarded an honorary doctorate from Suffolk University in Boston.
Crite was a prolific artist, he passed away on September 6, 2007 at the age of 97.
Sources:
http://grossman.dce.harvard.edu/crite
http://www.thehistorymakers.com/biography/allan-crite-40