American Beach in Jacksonville, Florida, was the only beach in Florida that welcomed Blacks and offered a safe and offered secure overnight accommodations during the Jim Crow segregation era. The beach was founded in 1935 by the Afro-American Life Insurance company, which was established in 1901 to provide Jacksonville's black community with life insurance.
The firm's Afro-American Pension Bureau purchased a 33-acre piece of property at the beach on nearby Amelia Island. This area of land was obtained in part as an investment, but also to provide it as a resort area for Black Floridians who had been excluded from other beaches. Abraham Lincoln Lewis, the President of Afro-American Life, ironically named the area American Beach because he and others felt that in the United States beach access should be open to everyone.
Florida's Black millionaires and landowners built homes in the area and encouraged other African-Americans to do the same. Between the late 1930s and 1950s,tourists traveled from all over the country to stay at the resort. Prominent entertainers performed at the beach resort, including Ray Charles, Duke Ellington, and Cab Calloway. The beach continued to thrive for nearly three decades.
In 1964, Hurricane Dora ripped the resort apart and destroyed several  homes and businesses. Many owners either would not or could not afford to rebuild their legacy. The desegregation of beaches due to the Civil Rights Act the same year caused Blacks to frequent beaches closer to their homes. Consequently, like similar resorts across the nation, American Beach residents abandoned or sold their properties, and most tourists stopped visiting altogether. Nevertheless, a small loyal group of American Beach families remained in the area. By the 1980s, the location attracted new home owners to the area.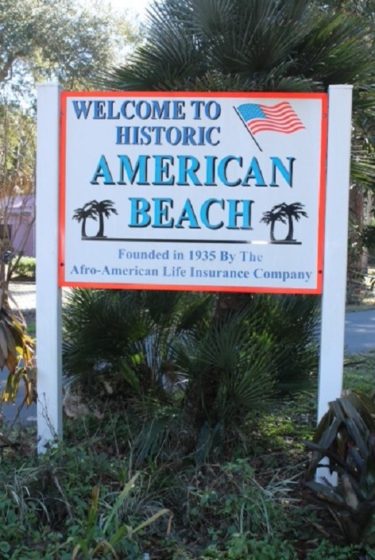 sources:
http://jacksonville.com/community/shorelines/2014-10-13/story/sands-time-american-beach-nears-80-year-anniversary
http://www.blackpast.org/aah/american-beach-jacksonville-florida-1936
https://en.wikipedia.org/wiki/American_Beach,_Florida