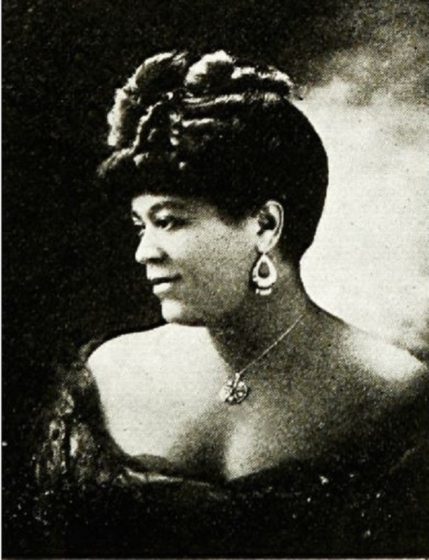 Anita Patti Brown was a prominent soprano recitalist from the 1900s to the 1920s. Little is known about her early life, other than that she was born Patsy Dean in Georgia.
Showing an early aptitude for music, Brown sang in various church choirs and about 1900 moved to Chicago to further her studies. While in Chicago, she met and married Arthur A. Brown, a choral director who supported her interest in music.
After making her Chicago debut at the Chicago Opera House in 1903, Brown toured so extensively throughout the United States, Caribbean, and South America that she was dubbed by the black press "the globe-trotting prima donna." Another nickname was "The Bronze Tetrazzini," after the world-famous soprano. Her professional name morphed from Patsy Dean.
Brown was known to put on a glamorous show, with beautiful gowns that she changed several times during a performance. Black newspapers treated her as their version of the celebrated prima donnas of the white concert world. In later years she dabbled in beauty products, running ads for perfumes and skincare products.
In June 1916, while touring the East, she made at least one test recording for Victor in New York. According to the files, this was an unidentified aria from the opera Mignon, accompanied by pianist "E. King" (presumably Victor staff musician Edward King).
In April 1920, Brown paid to have a private recording made by Columbia, which was a twelve-inch single faced record, made on April 14 by "Mrs. A. A. Brown" of Chicago and approved for pressings on the Columbia personal label. The selection was the soprano showpiece "Villanelle" by Dell'Acqua. Anita Patty Brown died on December 28, 1950.
sources: