Bill Richmond, who was also known as the "Black Terror," was born to slaves in New York in 1763. Richmond, who also served as a hangman during the Revolutionary War, was the first African American to be labeled as an international "prizefighter."
At the young age of 14, he was sent to be educated in cabinetmaking in Yorkshire, England. After being prompted to fight with a soldier after an argument, he spent the majority of his time boxing as opposed to making cabinets.
Richmond received no boxing tutoring and was entirely self-taught. In 1804, he had his first professional fight; the self-taught welterweight would defeat men four to five times his size. At the age of 36 years old, he witnessed veteran boxer George Maddox in action and declared he could defeat him. Given the opportunity, he failed miserably; Maddox stopped him in three rounds.
Undeterred, Richmond entered the ring in May of 1805 and defeated a Jewish boxer known as "Fighting Youssep." In 1808, Richmond faced and defeated Jack Carter at Epsom Downs near London. In 1809, Richmond had a rematch with George Maddox at Wimbledon Common and won after 52 rounds.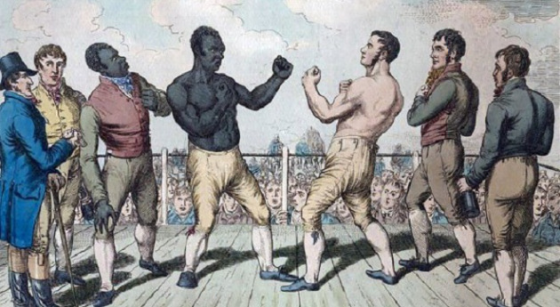 Richmond was known to have excellent footwork and quick hands, which enabled him to avoid big punches and outwork larger fighters using the bob and weave technique. He died at his home in London, England, in 1829. In 1999, Richmond was inducted into the International Boxing Hall of Fame.
source:
http://www.blackpast.org/gah/richmond-bill-1763-1829