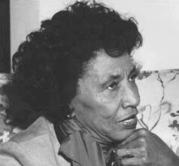 Undine Smith Moore was a notable and prolific female African-American composer of the 20th century. She began studying piano at the age of seven, and at the age of 20 became the first graduate of Fisk University to receive a scholarship to Julliard, where she graduated cum laude in 1926.
Moore was born in Jarratt, Virginia. She was the granddaughter of slaves.  In 1908, her family moved to Petersburg, Virginia. After graduating from Juilliard, Moore became supervisor of music for the Goldsboro, North Carolina public school system.
She began teaching piano, organ and music theory at Virginia State College (now Virginia State University) in 1927, remaining a member of the faculty until she retired in 1972. Moore, along with Altona Trent Johns co-founded the Black Music Center at Virginia State University in 1969. Moore traveled widely as a professor and lectured on black composers and also conducted workshops.
Among her many awards were the National Association of Negro Musicians Distinguished Achievement Award in 1975, the Virginia Governor's Award in the Arts in 1985, and a Candace Award from the National Coalition of 100 Black Women in 1984.
sources:
http://www.lva.virginia.gov/exhibits/destiny/notable/smith.htm
http://www.aaregistry.org/historic_events/view/undine-moore-composer-note-and-innovative-music-teacher