Early Life:
Kara Walker was born on November 26, 1969, in Stockton, California. Walker's passion for artistic expression was inherited from her parents. Larry was a former art teacher. Her mother, Gwendolyn, was a seamstress. At 13, her family relocated to Georgia. Walker witnessed Black racial struggles. This experience prompted her to include them in her art.
Art Career:
Walker pursued art in her college studies. She graduated with a B.A. from the Atlanta College of Art in 1991. Walker went further, earning her Master's from the Rhode Island School of Design. It is here where she crafted her signature medium, silhouettes.
That same year, Walker's piece Gone, an Historical Romance of a Civil War as It Occurred Between the Dusky Thighs of One Negress and Her Heart, appeared at the Drawing Center located in New York. Blacks are depicted in the artwork in the Antebellum South. Walker included images of a black female giving birth abundantly this represents the breeding that the enslaved had to endure. Also depicted is a female providing sexual pleasures to a white male, this represents the power dynamic and also sexual abuse that took place during Slavery.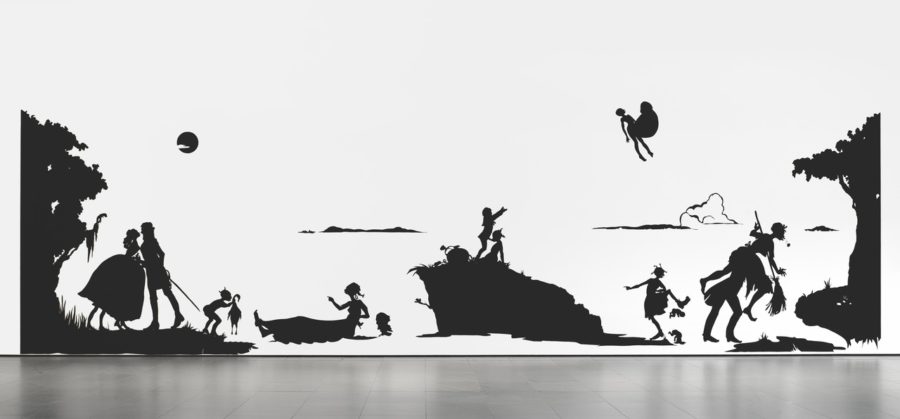 Walker has been recognized in magazines and newspapers. In June 2007, Walker was interviewed by The New Yorker's Hilton Als. During the interview, Walker resonated on a talk she gave in 2000 at the Des Moines Art Center. There was a question asked during the "Question and Answer" segment. A white man asked Walker about her continuation of being an active artist while showcasing the themes for which she has become known. Walker's responded with, "Oh, probably as long as I'm black and a woman." This response is only is a testament to the intersectionality of race and gender that black women battle every day.
Accolades:
Walker should be commended for her CV. In 1997, Walker earned the MacArthur genius award at 27. For this reason, Walker was one of the youngest recipients ever. Since then, she has had her collections showcased around the world, such as The Tate Gallery in London and Deutsche Bank in Frankfurt, Germany.
Ivy League school, Columbia University recognized Walker's success and knowledge by offering her a professorship. She has held this position for over a decade.
For more information visit the following sites:
http://www.newyorker.com/magazine/2007/10/08/the-shadow-act
http://www.pbs.org/art21/artists/kara-walker