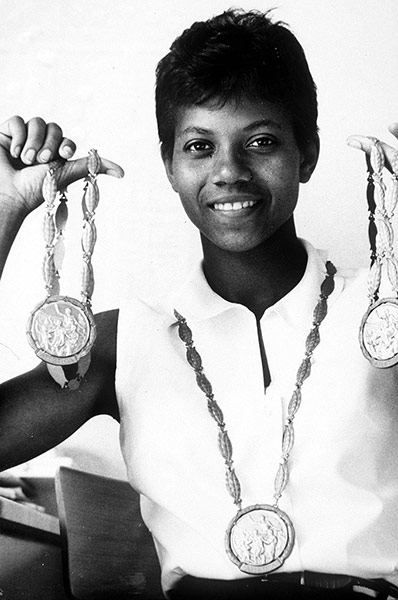 Wilma Rudolph
Wilma Rudolph was an Olympic Great with an inspiring life story. As a child, Rudolph grew up in poverty, surrounded by 21 brothers and sisters. She wore a leg brace until the age of 12, due to complications from a premature birth and a case of infantile paralysis by polio. Incredibly, she became a track star when she reached high school. In the 1960 Summer Olympics, Rudolph became the first American woman to win three gold medals in track in one Olympic Games season. She set a world record for the 200m and 4x100m, and was nicknamed the Black Gazell. Though her career was relatively short, she also won numerous Athlete of the Year awards and is down in history as one of the greatest female track runners.
Althea Gibson
Known for her powerful serves, Althea Gibson was a force to behold on the tennis court. Gibson was the first black woman to win the tennis Grand Slam, and won the Australian Open Doubles, French Open, Wimbledon Singles, and U.S. Open Singles during 1956 and 1957. From 1957-1958, Gibson was ranked No. 1 in the world. Gibson is now in three different hall of fames, the International Tennis Hall of Fame (inducted in 1971), the Sports Hall of Fame of New Jersey (inducted in 1994), and the New Jersey Hall of Fame (inducted in 2009).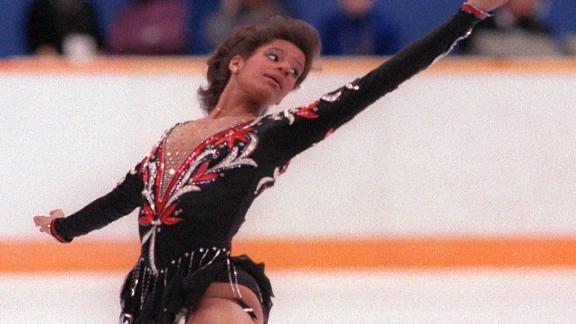 Debi Thomas
In the 1980s, Debi Thomas ruled the world of ice skating. All while studying at Stanford University as an undergrad, Thomas won the U.S. Figure Skating National Championship in 1986 and 1988, and became the World Figure Skating Champion in 1986, making her the first black woman to do so in the U.S. Thomas made history again when she became the first African American to win a Winter Olympic medal in 1998, snatching up a bronze medal. Skating never took precedence over her education, however, and Thomas graduated in 1991 with her engineering degree and went on to Northwestern University Feinberg School of Medicine in 1997 to become an orthopedic surgeon.
Lisa Leslie
Lisa Leslie is well known as one of the greatest female basketball players as well as a pioneer in the WNBA. Standing at 6'5", Leslie played for the Los Angeles Sparks for 12 years with an astounding career. She averaged 17.3 points, 9.1 rebounds, 2.4 assists, and 2.3 blocks per game. With the Sparks, Leslie won two WNBA titles, three MVP Awards, and two Defensive Player of the Year Awards. Leslie continued her greatest outside of the WNBA and also won four gold medals on the U.S. Women's Basketball Team in 1996, 200, 2004, and 2008 as well as two world championships in 1998 and 2002.
Alice Coachman
Alice Coachman is known as the first black woman to win an Olympic Gold Medal. Excelling in track and field, Coachman first garnered attention when she set records in high jump during high school while jumping barefoot. From 1939 to 1948, Coachman won 10 consecutive national championships. She was unable to compete in the 1940 and 1944 Olympics, which were cancelled due to World War II, but if able to compete, Coachman would have likely dominated all competition, and would be remembered as one of the greatest female athletes of the century. In 1948, she finally got her chance to compete in the Olympics, and became the first African American woman to win a gold medal.
Source: http://bleacherreport.com/articles/1081466-the-20-most-influential-african-american-athletes-who-changed-sports-forever