When "wrestling" comes to mind it's often the popular sports entertainment form of professional wrestling or amateur and wrestling displayed in the Olympic Games, high school, and collegiate competition. When African/Afrikan martial arts come to mind, it's often strike-oriented styles from the Americas' branch of the diaspora.
Lutte Traditionnelle is a grappling system of West Africa in the folk wrestling family tree with styles such as judo, catch, collar-elbow, sumo, various forms of belt and jacket wrestling, and oil wrestling. Like any martial art, it goes by different names depending on the region or nation. In Senegalese wrestling, it goes by Laamb (because of the drum played during matches), Njom, or other names depending on the region.
WITHIN LUTTE TRADITIONNELLE
The main focus of the style, when applied to athletic competition, is to force an opponent out of a ring, from a standing base, or to all fours. This means that balance, momentum, power, and speed are all important to utilize and defend against throws, pushes, and sweeps. Within Sengalese wrestling, punches are permitted.
With the West African styles falling under the structure of Lutte Traditionnelle during the 1950s, striking was ditched in the wrestling element. This element exists in its own competition called Dambe or Dembe. In Senegalese wrestling, it is split into Lutte Traditionnelle sans frappe (without punches, the official version) or the regional Lutte Traditionnelle avec frappe with the overall branch being called Lutte Senegalese.
Like other forms of folk wrestling that have formed into national and international sports, Lutte Traditionnelle has tournaments and championships.
POPULARITY OF SENEGALESE WRESTLING
Dambe and Laamb are major spectator sports in Senegal with followings in surrounding nations. The Senegalese style is also the most popular form of Lutte Traditionnelle and is carried on national TV.
Similar to Japanese sumo, Mexican lucha libre, or professional wrestling, fighters in Laamb sometimes take on ring names. Well-known faces include Bombardier (Serigne Ousmane Dia), Balla Gaye 2, Combat Tyson (Mohamed Ndao), and the decorated Yékini (Yakhya Diop).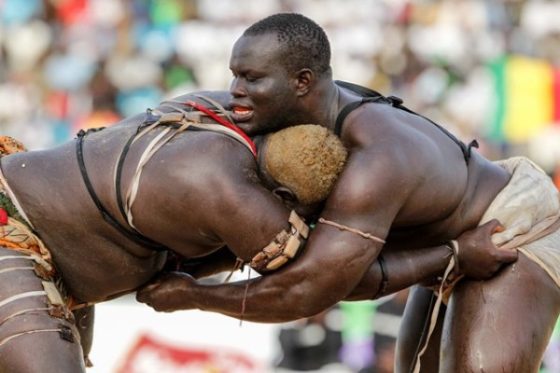 SOURCES
-NYT: http://www.nytimes.com/2012/05/25/sports/money-and-mysticism-mix-on-fight-nights-in-senegal.html
-Dambe (YouTube): https://www.youtube.com/watch?v=W3w_WkQ2sgY
-Laamb (YouTube): https://www.youtube.com/watch?v=LSDOhz0lvZk