Branding of African-American slaves was common throughout the Antebellum south. The brutal and harsh act was performed both for identification purposes and as a form of punishment.
Slave branding is the process in which a mark, usually a symbol or ornamental pattern, was burned into the skin of a living slave with the intention to scar the skin permanently. This was achieved by using a very hot or very cold branding iron.
In criminal law, branding with a hot iron was a mode of punishment by which marking the subject as if they were property or animals, sometimes concurrently with a reduction of status.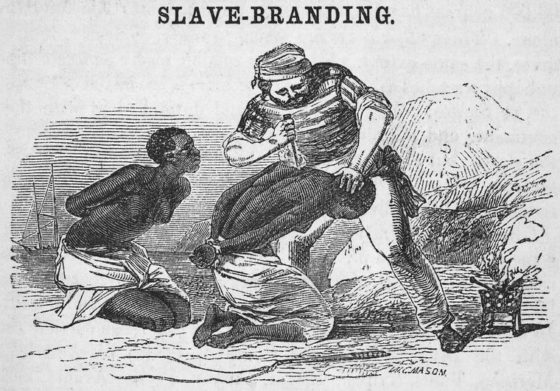 Usually, slave owners would brand the back, shoulder, abdomen, and even the face of a slave. Frederick Douglass described the act in an address he delivered in England on September 1, 1846, as "A person tied to a post, and his back, or such other parts was branded, laid bare; the iron was then delivered red hot, and applied to the quivering flesh, imprinting upon it the name of the monster who claimed the slave."

But not just slaves were branded. Johnathan Walker, a white man born in 1790, was arrested in 1844 for trying to carry slaves who were members of his church to freedom in the Bahamas. He was apprehended in Florida and jailed for mare than a year. His hand was branded with the letters "S.S." for Slave Stealer.
sources:
http://aaregistry.org/historic_events/view/abolitionist-branded-slave-stealer
http://usslave.blogspot.com/2012/04/branding-irons.html
tramadol buy online
buy valium
USA online pharmacy
order Soma online
buy tramadol
order Valium online
purchase Tramadol online
tramadol website