Think of all the people who live an entire life and do not accomplish one thing they really wanted to do. I have done something I wanted to do. I have that satisfaction. – Emmett Ashford
Emmett Ashford broke the color barrier for umpires in the major leagues in 1965. Ashford spent 20 years as a professional umpire, a profession that most men tried to avoid, passing judgement on the performances of the games of great athletes and their inflated egos.
Ashford was born in 1914 in Los Angeles. His father worked as a police officer and abandoned the family, leaving Emmett and his brother to be raised by their mother. His mother was highly motivated and was a secretary for the California Eagle, a popular black newspaper during the time. Ashford also found ways to help his family's income. He sold newspapers and later took a job as a cashier in a supermarket.
In 1936, Ashford scored well on a civil service exam and landed a coveted job as a clerk in the post office, a position he held for fifteen years. He then took a leave of absence from his post office job for a two-month trial in the Southwestern International League, becoming the first black umpire in organized baseball. Ashford married but divorced after spending three years in the United States Navy during World War II.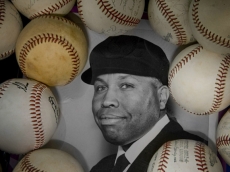 While doing his 12 years in the Pacific Coast League (PCL), Ashford became the best-known umpire in the minor leagues. He was best remembered for his interacting with the crowd by doffing his cap and giving little speeches. There were some umpires who did not take to kindly to Ashford's antics and often questioned his umpire abilities, but it was said that it was out of envy.
One of the most remembered incidents of Ashford's occurred during the 1964 playoffs in the Dominican Republic. After a strike call on Julian Javier, Ashford was met with disapproval. Ashford motioned the pitcher to continue and held up strike three. Javier reacted by slugging Ashford in the mouth, cutting the umpire's lip open and swelling his jaw. However, Ashford did retaliate and slugged the Cardinal infielder with his mask, for a split second forgetting that Javier was a local hero.
For the most part, Ashford remained a happy and upbeat person throughout his umpire career. His big break came in 1965 when he received a call for him to umpire in the major leagues. The regular game season took place on April 9, 1966, in Washington's D .C. Stadium, the traditional American League opener. But his first big hurdle was just getting on the field; he had to convince security a black man was there to umpire. Ashford became a big sensation in the league right away.  Ashford died in 1980.
source:
http://www.baseball-reference.com/bullpen/Emmett_Ashford
http://sabr.org/bioproj/person/40af3222