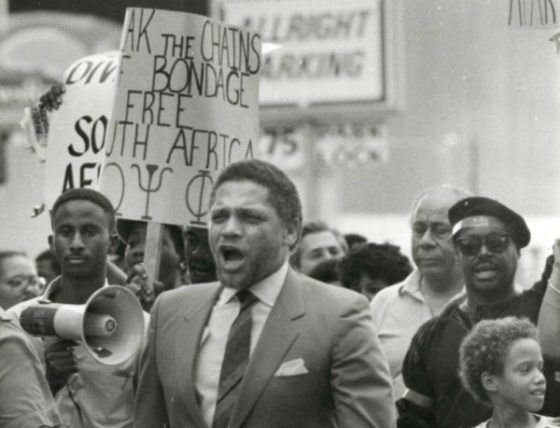 George Thomas "Mickey" Leland was an anti-poverty activist who later became a congressman from the Texas 18th District and chair of the Congressional Black Caucus.
Leland was born in Lubbock, Texas on November 27, 1944, to Alice and George Thomas Leland, Jr. Mickey Leland and his family soon moved to Houston's Fifth Ward. Growing up in a predominantly African American and Hispanic neighborhood, Leland attended Wheatley High School in Houston, Texas, where he ranked in the top ten percent of his class when he graduated from Wheatley in 1964.
After graduating high school, Leland enrolled at Texas Southern University, he emerged as a vocal leader of the Houston-area civil rights movement and had brought national leaders of the movement to Houston. He graduated from Texas Southern in 1970 with a Bachelor's degree in Pharmacy. He served as an Instructor of Clinical Pharmacy at his alma mater in 1970–71, where he set up "door-to-door" outreach campaigns in low-income neighborhoods to inform people about their medical care options and performing preliminary screenings.
In 1972, Texas for the first time allowed its State House of Representatives and Senate seats to be elected as single-member districts. Soon after the decision, five minority candidates who got the name "People's Five", including eventual winners Leland, Craig Washington and Benny Reyes ran for district seats in the Texas House of Representatives, a first for a state. Barbara Jordan had been a state senator, but the state had not seen any African-American state representatives since Reconstruction.
Re-elected in 1974 and again in 1976, Leland served three two-year terms in the Texas House of Representatives, representing the 88th District and while in Austin, he became famous for being a staunch advocate of healthcare rights for poor Texans.
After six years in the Texas State Legislature, Leland was elected to the United States House of Representatives in November 1978 to represent Texas's 18th District and was re-elected easily in 1980, 1982, 1984, 1986 and again in 1988 to six two-year terms, serving until his death. On August 7, 1989, Leland died in a plane crash in Gambela, Ethiopia during a mission to Fugnido, Ethiopia. A total of fifteen people, including Leland, died in the crash.
sources:
http://www.uh.edu/class/hobby/interns/leland-fellows/bio-mickey-leland.php
http://history.house.gov/People/Detail/16887