In 1887, the torso of a body was discovered in Philadelphia, Pennsylvania. The community was terrified over the crime and, because of the crimes that took place during that era, was concerned that a killer was highly unlikely to be found. But to their amazement, police quickly drew their attention on a black married migrant woman named Hannah Mary Tabbs. Tabbs' trial lasted for months with an outcome that was almost easy to predict.
Tabbs, who was dubbed as a "murderess," was not only found to be guilty of murder, but of adultery and domestic violence as well. Tabbs did not confess to the crime of killing her alleged lover, but she did implicate 18-year-old mixed-race teenager, George Wilson, for the murder.
Tabbs was born in the 1850s in a slave state and grew into womanhood during the Civil War. She met her husband, who was 15 years her senior, in Baltimore, Maryland. Tabbs was a woman who knew how to get what she wanted. She used aliases when she felt the need and gave false information about her age and background information. She was known to bully family members and people throughout her neighborhood.  It is also believed that she used bullied others to keep her secret about her adulterous affair.
Tabbs reportedly committed many crimes in the black community, but it was not until authorities believed a crime was committed against a white man that she was charged. Tabbs and the young man she accused of murder spent countless hours being interrogated. During this time, police often coerced black suspects into full confessions whether they actually committed the crime or not. For her part in the murder, Tabbs served two years in prison while Wilson served nine.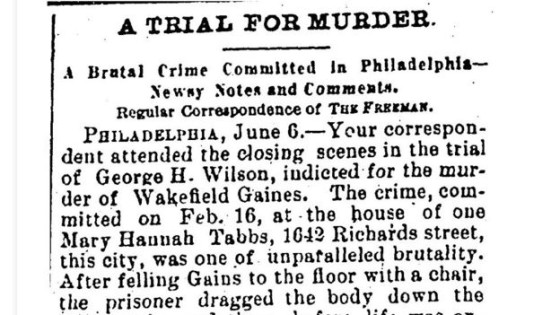 source:
https://notevenpast.org/ordinary-yet-infamous-hannah-mary-tabbs-and-the-disembodied-torso/