Rev. Charles Albert Tindley was an American Methodist minister and gospel music composer. He was often referred to as "The Prince of Preachers," and became the founder of one of the largest Methodist congregations serving the black community on the East Coast.
Tindley was born on July 7, 1851, to a slave father and a free black woman. Although Tindley was considered to be free, he grew up among slaves. Shortly after the Civil War, he along with his wife Daisy attended the Bainbridge St. Methodist Episcopal Church. He later became the sexton, an unpaid building caretaker.
Tindley was never formally educated, but he often asked people to tutor him. He enlisted the help of a Philadelphia synagogue on North Broad St. to learn Hebrew, and learned Greek by taking a correspondence course through the Boston Theological School. Without any degree, Tindley was qualified for ordination in the Methodist Episcopal Church by examination, with high-ranking scores. He was ordained as a Deacon in the Delaware Conference in 1887 and as an elder in 1889.
Tindley then became the pastor of the same church at which he had been a janitor. Under his leadership, the church grew rapidly from the 130 members it had when he arrived.
In 1906, the congregation moved from Bainbridge St. to Broad and Fitzwater St. and was renamed East Calvary Methodist Episcopal Church. The property was purchased from the Westminster Presbyterian church and seated 900, though it was soon filled to overflowing. The congregation over time grew to a multiracial congregation of 10,000.
Tindley was a noted songwriter and composer of gospel hymns. Five of his hymns appear in the 1989 United Methodist Hymnal. His songs were published cumulatively in two editions of Soul Echoes (1905, 1909) and six editions of New Songs of Paradise (1916-1941).
His composition, "I'll Overcome Someday," is credited by some observers to be the basis for the U.S. Civil Rights anthem "We Shall Overcome." However, his song "Stand by Me" is one of the most famous of his many gospel songs. Rev. Charles Albert Tindley died in 1933 at the age of 82.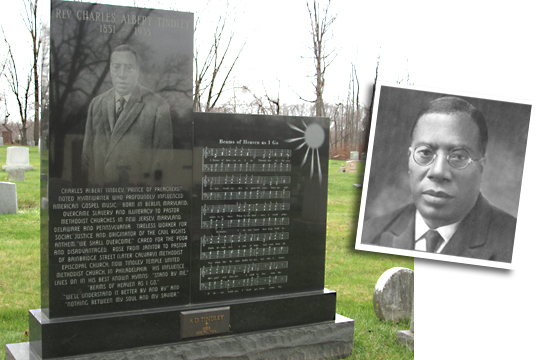 sources:
https://en.wikipedia.org/wiki/Charles_Albert_Tindley
http://www.hymnary.org/person/Tindley_CA