Betye Irene Saar is best-known for her famous collages that lampoon racist attitudes about African-Americans and for installations featuring mystical themes.
Saar was born Betye Irene nue Brown in Los Angeles, California. After her father's death in 1931, Saar, along with her mother and younger brother and sister, moved in with her maternal great-aunt and her husband, Hattie Parson Keys and Robert Keys, in Pasadena, California. She studied design at the University of California at Los Angeles and graduated in 1949. After graduating, Saar worked as a social worker in addition to pursuing her interest in art. She later studied education and printmaking at California State University at Long Beach.
In the late 1960s, Saar began collecting images of Aunt Jemima, Uncle Tom, Little Black Sambo, and other stereotyped African American figures from folk culture and advertising. She incorporated them into collages and assemblages, transforming them into statements of political and social protest.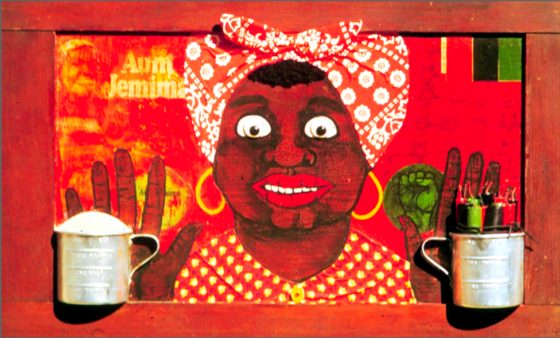 One of Saar's most well-known art pieces was "The Liberation of Aunt Jemima." The art displays a "mammy" doll carrying a broom in one hand and a shotgun in the other in front of repeated images of Aunt Jemima-brand pancake syrup labels.
After the death of her great-aunt, she began collecting family memorabilia. The memorabilia was used to create personal and intimate assemblages that incorporated nostalgic mementos of her great-aunt's life. She arranged old photographs, letters, lockets, dried flowers, and handkerchiefs in shrine-like boxes to suggest memory, loss, and the passage of time. The work is referred to as her "nostalgic series."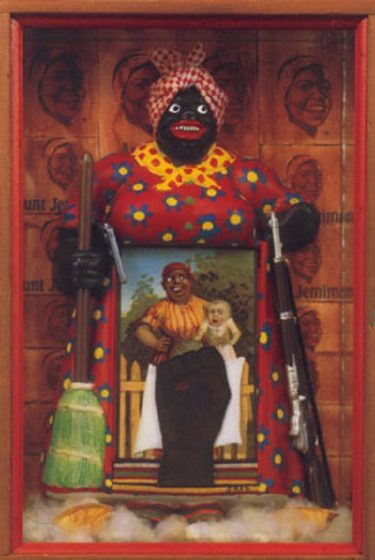 sources:
http://aaregistry.org/historic_events/view/betye-saar-confronts-racism-her-art
https://en.wikipedia.org/wiki/Betye_Saar
>http://www.visionaryproject.org/saarbetye/