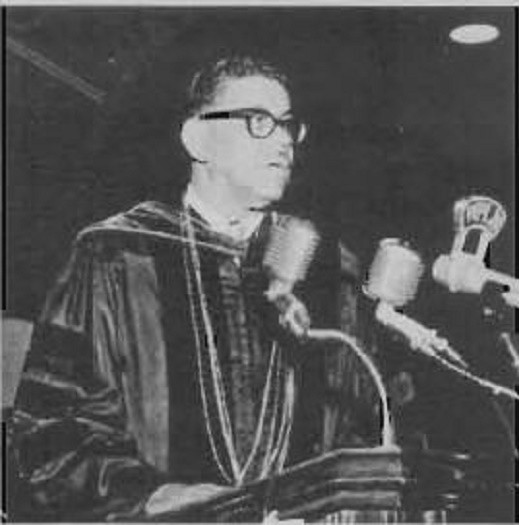 James Raymond Lawson was an African-American physicist and university administrator. He served as president of Fisk University, in Nashville, Tennessee, from 1967 to 1975.
Lawson was born on January 15, 1915 in Louisville, Kentucky. His father, Daniel LaMont Lawson, was a Fisk alumnus, Fisk Jubilee Singer and an academic dean at Simmons College. Lawson graduated from Fisk University, where he was a member of the Kappa Alpha Psi fraternity and he earned a bachelor's degree in Physics in 1935. He attended the University of Michigan on a Rosenwald Fellowship, where he earned a PhD in Physics in 1939.
Lawson was an assistant professor of physics at Southern University from 1939 to 1940, and an associate professor at Langston University from 1940 to 1942. He became an associate professor and chair of the physics department at his alma mater, Fisk University, in 1942. From 1955 to 1957, he was the chair of the physics department at Tennessee A & I University, later known as Tennessee State University. He became a full professor and chair of the physics department at Fisk University in 1957, and the vice president from 1966 to 1967.
Lawson was the president of Fisk University from 1967 to 1975. He was the first alumnus to serve as president. As many students joined the Black Power movement, Fisk's white donor base dwindled, leading to "salary cuts of twenty percent and operational budget cuts of twenty-five percent."
Lawson married Lillian Arcaeneaux; they had two sons and two daughters. He resided in Nashville, where he died on December 21, 1996, at age 81.
source:
https://nkaa.uky.edu/nkaa/items/show/1012
https://en.wikipedia.org/wiki/James_Raymond_Lawson