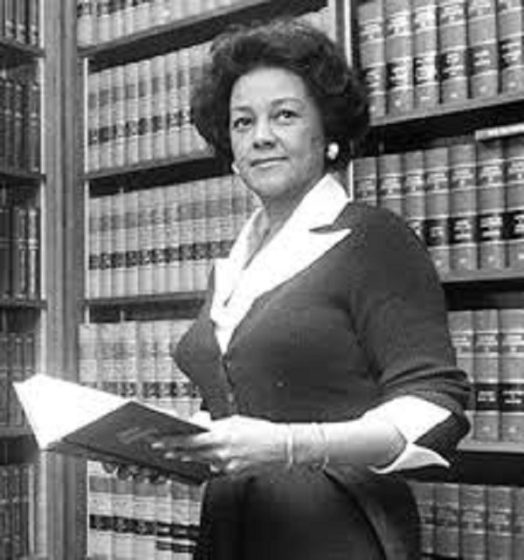 Jewel Stradford Lafontant-Mankarious was the first female deputy solicitor general of the United States. Lafontant-Mankarious also became the first black woman to argue a case before the U.S. Supreme Court.
Lafontant-Mankarious was born April 28, 1922 in Chicago, Illinois. Her father, C.F. Stradford, was a founder of the National Bar Association in 1925. He was one of a group of attorneys, including Irvin C. Mollison (Oberlin College 1916-17), who argued the case of Hansberry et al. v. Lee et al. (311 U.S. 32) before the U.S. Supreme Court. In this landmark 1940 case, the nation's highest court abolished the restrictive covenants on the use of land that had limited racial integration in Chicago neighborhoods. Her mother, Aida Carter Stradford, was an artist and homemaker.
After completing her primary education, Lafontant-Mankarioius attended Oberlin College where she earned her bachelor's degree in political science in 1943 and in 1946 she became the first African American woman to graduate from the University of Chicago Law School.
In 1955, Lafontant-Mankarious was appointed by President Dwight Eisenhower as assistant United States attorney for the Northern District of Illinois. In 1960, she gave the seconding speech for Richard Nixon's nomination to be the Republican Party candidate for president.
In 1963, Lafontant-Mankarious became the first black woman to argue a case before the U. S. Supreme Court. She was appointed by President Richard Nixon as vice chairman of the U. S. Advisory Commission on International, Educational and Cultural Affairs in 1969, representative to the General Assembly of the United Nations in 1972, and the first female deputy solicitor general in 1973. From 1989 to 1993, she served as Ambassador-at-Large and U. S. Coordinator for Refugee Affairs in the administration of President George H. W. Bush. Jewel LaFontant-Mankarious died of breast cancer in Chicago on May 31, 1997.
sources:
http://biography.jrank.org/pages/2625/LaFontant-Jewel-Stradford.html