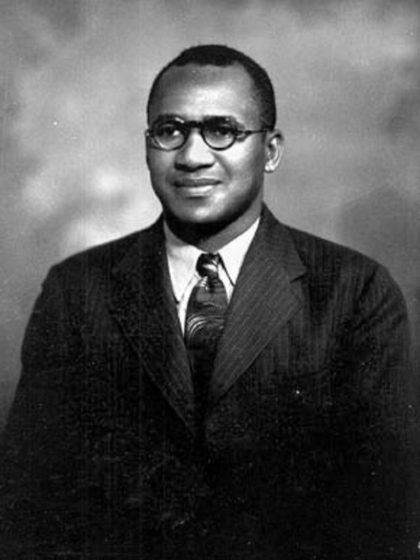 John L. LeFlore was a community leader and civil rights, activist. His career spanned for over 50 years. During the mid-1920s, he helped transform the Mobile chapter of the NAACP into one of the most active organizations in Alabama.
LeFlore was born in Mobile, Mobile County, on May 17, 1903, to Doc and Clara LeFlore. His father died when he was just nine months old, leaving his mother, Clara, to care for John and his siblings.
At a very early age, LeFlore began selling newspapers to help support his family. He graduated from Owen Academy, a small, privately run school for black children, in Mobile in 1920.
In 1922, he became one of the few blacks in Mobile to pass the civil service examination at a time when limited access to education and the persistence of white supremacy often made it difficult for blacks in the south. He married the daughter of a prominent black physician and they had three children. With the help of his wife's father, LeFlore was able to obtain a position as a postman. A position, he kept for several years.
Although LeFlore worked as a postman and was married into a prominent family, he still faced obstacles as many blacks did living in the South.
In 1925, LeFlore was accosted by police after an altercation with a white passenger on a local streetcar. Soon after, LeFlore wrote to the headquarters of the NAACP and inquired about reorganizing the Mobile branch, which had been inactive for several years. With the support of the national office, LeFlore quickly found 50 new members, and the group reorganized later that year with LeFlore as its executive secretary, a position he would hold for the next half-century. His position as a postman put him in daily contact with Mobile's black community, and he thus had first-hand knowledge of the important issues facing its members.
Leflore and others founded the Non-Partisan Voting League in 1956. From 1959 until his death, Leflore served as director of casework for the NPVL. He conducted investigations of social issues, initiated court proceedings, and acted as spokesman for the organization. During this period, the NPVL worked to increase hiring of black employees in city government, sued for desegregation of the Mobile public school system after the US Supreme Court ruling in Brown v. Board of Education (1954). John L. LeFlore died in 1976.
sources:
original article found at:
http://www.encyclopediaofalabama.org/article/h-2942