BY WALTER OPINDE
Let us all join hands in wishing one of our favorite deejays a birthday blast as he turns a year older; may he live longer to continue presenting to us the special and priceless music entertainment.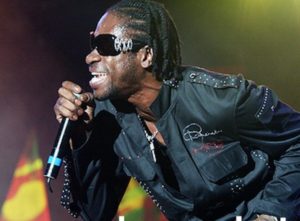 Rodney Price Basil, famously known by his stage name as "Bouty Killer," is a Jamaican reggae and dancehall deejay. Allmusic describes him as "one of the most aggressive dancehall stars of the '90s, a street-tough rude boy with an unrepentant flair for gun talk." He is the founder of a dancehall collection known as The Alliance, along with deejay Mavado.
Bouty Killer (Rodney Price Basil) was born on 12th June, 1972, in the rural Jamaica but later moved to Kingston at an early age, along with his mother and siblings. His father owned and ran the Black Scorpio sound system. Basil started his musical career as a sound system deejay in his early teens. At the age of 14, Rodney Basil Price was shot by a stray bullet during a gunfight between rival political factions, and while convalescing in hospital decided on the name "Bounty Killer." After his recovery, he increased his performances on a greater number of sound systems and turned his attention towards recording.
Before his entry into the dancehall industry, Rodney Price was in the retail industry as an entrepreneur selling figurines. He was then encouraged to record at King Jammy's Studio in Kingston. Price eventually recorded with King Jammy, the first session being in Spring 1992. One of his first tunes was the "Coppershot."
Price has expressed dislike for the popular rap, which he called "embarrassing to reggae," even while collaborating with Wu-Tang Clan, Mobb Deep, and others he considers it hardcore.
In 2001, Bouty collaborated with No Doubt on their single "Hey Baby." Further success followed with albums such as Ghetto Dictionary Volume I: Art of War and Ghetto Dictionary Volume II: Mystery, the latter receiving a Grammy nomination, which he lost to veteran Reggae producer Lee Scratch Perry. Bounty Killer later admitted that he felt he should have won the award, as Lee Scratch should have won that category only during his glory days. In 2006, he signed with VP Records and released the compilation album Nah No Mercy – The Warlord Scrolls on 7 November 2006. He has been credited with having inspired many young artists such as Vybz Kartel, Mavado, and Elephant Man among several other members of The Alliance.
In 2003, Price canceled two of his concerts after the LGBT magazine Outrage petitioned Scotland Yard for his arrest, claiming songs about bashing gays would incite harassment against the gay community. He returned in 2006 after a three-year break, performing uncensored lyrics at several venues without recrimination. He has since directed his focus to social commentary and party lyrics, admitting that he will not attack nor pay attention to the gay community in his music.
In 2008, Bounty Killer collaborated with Daddy Yankee in the song "Controlando El Area" for the album "Caribbean Connection." Later, in 2014, Bounty Killer and long-term rival Beenie Man pushed aside their differences and recorded a single together, "Legendary." He has since remained an iconic deejay in the reggae and dancehall music.
Read more of the story via: http://www.allmusic.com/artist/bounty-killer-mn0000078758/biography