For over 200 years, the black man depicted in the painting above kneeling behind a small table roasting sweet potatoes and who Francis Marion extends his hand to was known only as "the faithful servant negro." However, this black man had a name and a life.
Oscar Marion was an enslaved African-American and Revolutionary War militiaman. He was described as being the personal servant of General Francis Marion (1732–1795). The general was the legendary "Swamp Fox" from South Carolina who bedeviled British Redcoats during the War of Independence. He was known as one of the fathers of modern guerrilla warfare. The 2000 movie, "The Patriot," starring Mel Gibson, was based on Swamp Fox lore.
Because of customs at the time,  Oscar was made to take the last name of his owner, and he was one of perhaps 200 slaves (many with the last name of Marion) who served Francis Marion. But there may have been a close personal connection between the general and his slave.
It is believed that Marion appears in at least one painting of the general, "General Marion Inviting a British Officer to Share His Meal," shows a black man only a few feet from Francis, kneeling at a fire and roasting sweet potatoes as he warily surveys the red-coated office.
Oscar fought in the siege of Savannah in 1779, the siege of Charleston in 1780, and the Battle of Eutaw Springs in 1781. His efforts alongside Gen. Francis Marion and his militia helped set up the Continental Army's eventual victory over forces led by British Gen. Charles Cornwallis at Yorktown, Va. Following his seven years of service with Gen. Marion in the Revolutionary War, Oscar Marion likely returned with the general to Francis Marion's large Berkeley County, S.C., plantation. There is no evidence that Oscar ever married or had children.
In December 2006, Oscar Marion was recognized as an "African American Patriot" in a ceremony at the U.S. Capitol, and a proclamation signed by President George W. Bush expressed the appreciation of a "grateful nation" for Oscar Marion's "devoted and selfless consecration to the service of our country in the Armed Forces of the United States." The occasion was a triumph for his distant cousin, genealogist Tina C. Jones, who researched his identity and pressed officials to honor him.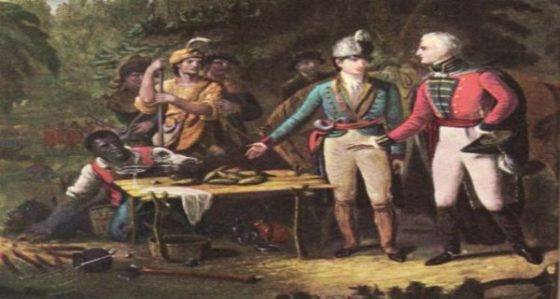 sources:
http://ireport.cnn.com/docs/DOC-262739
http://www.sweetpotatoblessings.com/patriot/marion4.htm