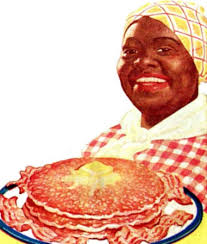 For 17 years Rosie Lee Moore Hall captured the attention of the world in the persona of Aunt Jemima. Born in Robertson County, Texas, in 1899, Hall was a native of the community of Pin Oak, located between Hearne and Wheelock. She married Ollie Chambers at age 17 and remained in Pin Oak (Kern-Foxworth, 1988, p. 17). She left Hearne in her late 20s when her marriage failed, losing contact with her family for 19 years. By then she had made Oklahoma City her home and was working for Quaker Oats (Bullock, 1987).
While working in the advertising department of Quaker Oats she learned of the search for a new Aunt Jemima. According to family and friends, she perfectly exemplified the trademark, which was why her round smiling face adorned Aunt Jemima products for almost two decades (Kern-Foxworth, 1991, p. 31).
From 1950 to 1967 Hall continued the tradition started by other Aunt Jemimas and traveled the country showing off her culinary talents by making melt-in-your-mouth pancakes. She was at her best when she was cooking pancakes. And cook pancakes she did: at world's fairs and annually at the Texas State Fair; everywhere she went, she jovially served her syrup and buckwheat cakes. During her last years at Quakers Oats, Hall told her family she was excited about a new syrup recipe she was creating.
Hall was the oldest girl of 14 children, and was always outgoing. After she began the role of Aunt Jemima, her family looked forward to her annual visit home during Christmas. They would gather at the family home and sing Christmas carols, while Hall would talk about her experiences as Aunt Jemima. Her sisters say she was perfect for the job because she liked people so much. Her family never saw any of her official demonstrations, but they were always delighted when she returned home, because she would cook her famous pancakes for them.
The last time she visited was Christmas 1966. Two months later she suffered a heart attack on her way to church and died on February 12, 1967. An elaborate funeral was held in Oklahoma City, and she was buried in the family plot in the Colony Cemetery near Wheelock, Texas.
Although she died over a quarter of a century ago, Hall had no grave marker until 1988. A special ceremony was held May 7, 1988, and her grave was declared a historical landmark.
Hall's reign as Aunt Jemima is significant because she was the last "living" Aunt Jemima.