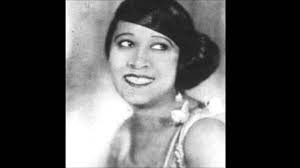 Born Edith Goodall, she came from a middle-class black family in Louisville, KY. After deciding on a career in show business and marrying pianist Danny Wilson, she performed in Chicago, Washington, D. C., and New York before accepting a recording contract from Columbia Records in 1921. Ba
cked by Johnny Dunn and the Original Jazz Hounds, Wilson cut "Nervous Blues," "Vampin' Liza Jane," and other songs, most of which were composed or arranged by Perry Bradford.
Wilson shifted her attention to performing rather than recording, as comedy and histrionics increasingly became an integral part of her routine. By starring in such shows as "The Plantation Revue," "Creole Follies," and "Hot Chocolates," Wilson cultivated a large following with white and upscale black audiences. Although her relationship with Columbia Records ended in the mid-1920s, Wilson did cut a few more songs with different labels before effectively concluding her recording career in 1930. Like many other female singers in the 1920s, Edith Wilson incorporated blues songs into a repertoire that was built mainly from cabaret and show tunes.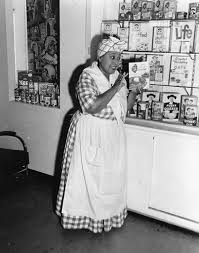 Though she lacked the emotional depth that artists such as Bessie Smith and Ida Cox brought to the classic blues form, Wilson helped introduce the blues to white audiences, both in the U.S. and in Europe. The exposure she and other blues-flavored cabaret performers gave the music in non-black markets enabled the genre to assume a stronger posture in pre-World War II pop music.
Throughout the 1930s and 1940s, she continued to perform in theaters and cabarets with big bands and revues and even appeared in a few films. Her most noted performing roles were on radio; Wilson played the part of Kingfish's mother-in-law on the "Amos and Andy" show, and shortly thereafter became the voice of Aunt Jemima for the Quaker Oats Company.
Wilson performed up until 1963 when she retired from the stage. However, a 1972 recording with Eubie Blake sparked a comeback that led to frequent folk and blues festival dates and an album for the Delmark label in 1976. One of her last noted performances was at the 1980 Newport Jazz Festival. She died a year later on March 30, 1981.