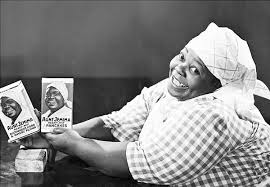 No one portrayed Aunt Jemima for ten years following the death of Nancy Green. In 1933 Anna Robinson made her debut as Aunt Jemima at the Chicago Century of Progress Exposition.
As Aunt Jemima, Robinson will forever be remembered in the annals of Quaker Oats history. "Never to be forgotten was the day they loaded 350 pounds of Anna Robinson on the Twentieth Century Limited and sent her to New York in the custody of the Lord and Thomas Advertising Agency to pose for pictures" (Kern-Foxworth, 1990, p. 59). An entire campaign was designed around her association with a parade of stars. She had personal appearances and posed with Hollywood celebrities at some of the most famous places, including El Morocco, "21", the Stork Club, and the Waldorf-Astoria. Everywhere Robinson went, she was photographed making pancakes for luminaries from motion pictures, radio, and Broadway. The advertisements derived from those photography sessions "ranked among the highest read of their time" (Marquette, 1967, p. 154).
The officials at Quaker Oats were so impressed with the advertisements using Robinson that they commissioned Haddon Sunblom, a nationally known commercial artist, to paint a portrait of her. The Aunt Jemima package was redesigned around the new likeness. Robinson stayed on the Quaker Oats Company payroll until her death in 1951.