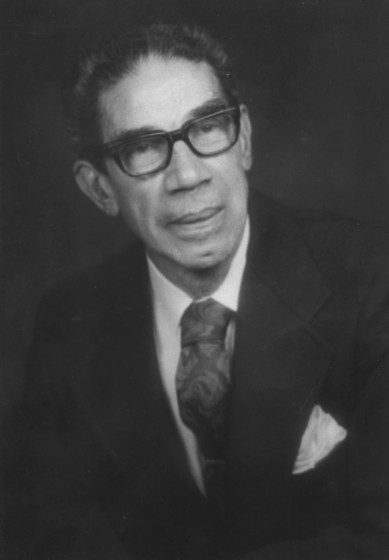 Lyman Tefft Johnson was an American educator and influential role model for racial desegregation in Kentucky. He is best known as the plaintiff whose successful legal challenge opened the University of Kentucky to African-American students in 1949.
Born in Columbia, Tennessee in 1906, Johnson was the eighth of nine children and the grandson of former slaves. In 1926, he received his high school diploma from the preparatory division of Knoxville College. After earning his bachelor's degree in Greek from Virginia Union University in 1930, he went on to receive a master's degree in history from the University of Michigan in 1931. Johnson was also a member of Alpha Phi Alpha fraternity.
He served in the United States Navy during World War II. He later taught history, economics, and mathematics at Louisville's Central High School before engaging in the University of Kentucky in a legal test case intended to permit to pursue further graduate study.
Johnson filed a federal lawsuit against the University of Kentucky in 1948, challenging the state's Day Law, the state law that prohibited blacks and whites from attending the same schools. His challenge was successful, which allowed him to enter UK in 1949 as a 43-year-old graduate student.  Although he left UK before earning a degree, he received an honorary Doctor of Letters degree in 1979.
Johnson continued teaching at Central until 1966, before spending another five years in the Jefferson County Public Schools as an assistant principal at two junior high schools.
After retiring from the public school system, he then spent three years in a similar administrative capacity at a Catholic high school. He was also a member of the Jefferson County Board of Education from 1978 to 1982.  Johnson served as a Deacon at Plymouth Congregational Church for thirty years, was active in the NAACP for forty years (serving as President of the Louisville branch four times), and was a member of the Louisville Public Library Board for six years. Johnson was also a member of the Kentucky Civil Liberties Union Board for twelve years and Secretary for two years and active on numerous other boards and committees within the city and state.
He received over 200 awards and recognitions including four Honorary Doctor of Letters degrees from the University of Kentucky, University of Louisville, Spalding University, and Bellarmine University. There are also awards, scholarships, parades, and a public school named in his honor.
Source:
http://louisville.edu/library/archives/findingaids/johnsonLyman.html