Mae Reeves was a pioneering milliner who specialized in custom made hats. Reeves often stated, " You're not fully dressed unless you wear a hat."
Born as Lula Mae Grant on October 29, 1912 to Samuel and Bessie Grant in Vidalia, Ga., she was the second child of six. After completing her primary education, she attended Georgia State Teacher's College in Savannah, Ga.
She met and married William Mincey and they had one son. She later moved to Philadelphia in 1934 where she found work in a ladies apparel shop. Her passion to make hats flourished as she became more determined to open up her own hat business.
At the age of twenty-eight, she secured a loan from Citizens and Southern Bank for $500. She then opened, Mae's Millinery Shop in downtown Philadelphia, which was predominantly a black community.
Reeves became one of the first African American women to own a business in downtown Philadelphia. Well-known names often patronized her shop including Ella Fitzgerald, Eartha Kitt, Lena Horne, and Marian Anderson.
Her career spanned for 50 years, by retirement, she had created pillbox, cocktail, feathered, and show stopping hats. There was no style that Reeves could not create. She received special recognition for her accomplishments. July 27, 2010 was proclaimed "Hats Off to Mae Day," by the city of Philadelphia. Mae Reeves died on December 14, 2016.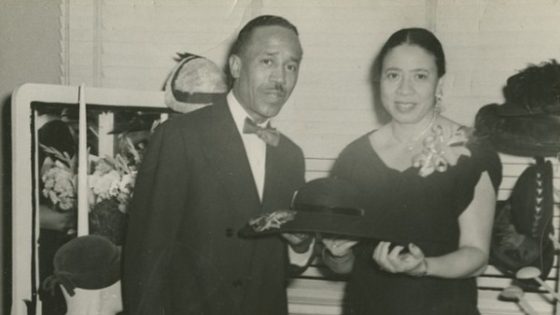 sources:
http://www.hatlife.com/newsletters/2010/aug10_1/art3.htm
http://www.phillytrib.com/obituaries/mae-reeves-pioneering-milliner/article_64c15886-75f1-516b-9fa4-602967d9225e.html