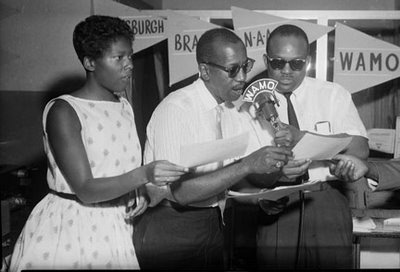 Mary Dee Dudley broke racial and gender barriers by becoming the nation's first African-American female disc jockey. Dudley launched her daily 15-minute show, "Movin' Around," on station WHOD in Homestead, Pennsylvania. After six months, the show expanded from 15 minutes to an hour, and two years later to two hours.
Dudley, a native of Homestead, Pennsylvania, was the daughter of William Goode and sister to ABC TV news reporter, Mal Goode. She attracted national attention when Ebony magazine spotlighted her show. Through her program, she interviewed national celebrities such as Cab Calloway, Jackie Robinson, and Sarah Vaughan.
On August 1, 1948, when WHOD went on the air for the first time, "Mary Dee" broadcasted her first 15-minute show to become the nation's first African-American female disc jockey with a daily show. She broadcast on WHOD from 1948 to 1956.
When Mary's show was expanded to show two hours, she brought in her brother, Mal, to run a daily Courier news segment. Mal was a reporter for the Pittsburgh Courier. Mal covered the Jim Crow segregation, poor housing, and prejudiced politicians. Mal Goode went on to become the first African-American news reporter for the ABC-TV Network.
Dudley left WHOD in 1956 to work in Baltimore, Maryland. After leaving WHOD, she was hired to work for station WHAT in Philadelphia, where she hosted a Monday through Saturday gospel music show called "Songs of Faith." She stayed on air with WHAT for eight years. Dudley died in 1964.
sources:
https://sites.google.com/site/pittsburghmusichistory/pittsburgh-music-story/radio/mary-dee-dudley