Omar Ibn Said was born in present-day Senegal in Futa Tooro, a region along the Middle Senegal River in West Africa. He was born into a wealthy family, but was captured during a military conflict and taken across the Atlantic Ocean to the United States. After being captured, Said continued to practice his Islamic beliefs and lived much of his life in North Carolina.
In 1810, Said escaped from his brutal master and remained on the run for about a month before ending up in Fayetteville, North Carolina. He was jailed and advertised as a fugitive slave. While he was imprisoned, he used coals from the fireplace to write on the cell walls in Arabic. He was eventually purchased by James Owen of Bladen County and was given certain privileges on the plantation.
He actively practiced his Islamic faith for many years. Owen procured a copy of the Qu'ran in English in order to facilitate his learning of the English language. Although Said converted to Christianity on December 3, 1820, many modern scholars believe he continued to be a practicing Muslim. Said had written dedications to Muhammad in his Bible in addition to writing Surat An-Nasr on a card in 1857, a short sura which referred to the conversion of non-Muslims to Islam "in multitudes."
Said is best known for his autobiography that he penned in Arabic in 1831, a 15-page manuscript and the only autobiography written by a slave in a native language. The autobiography describes some of the events of his life and includes reflections on his steadfast adherence to Islam and his openness towards other "God fearing" people. On the surface, the document may appear to be tolerant towards slavery. However, Said begins it with Surat Al-Mulk, a chapter from the Qur'an that states that only God has sovereignty over human beings.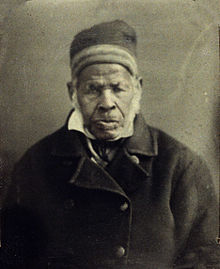 source:
https://en.wikipedia.org/wiki/Omar_ibn_Said