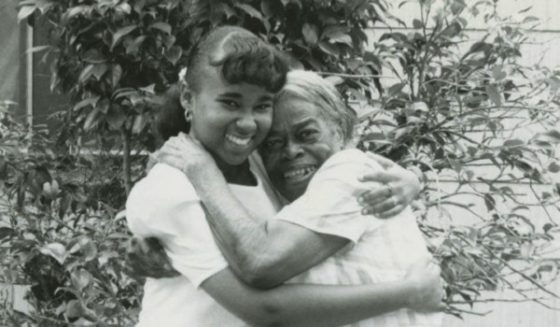 Osceola McCarty became one of the most famous women to have lived in Clarke County, MS. McCarty saved money all of her life to give to The University of Southern Mississippi (USM). She had very little if any connection with the former all-white school, but she saw the importance in education. Her one wish after donating money was to see an African-American student graduate from USM. Because of her generosity Osceola McCarty received national attention and a meeting with President Clinton.
McCarty was born in 1908 in Shubuta, MS. She was conceived when her mother was raped on a wooded path in rural Mississippi as she returned from tending a sick relative. Oseola was raised in Hattiesburg by her grandmother and aunt, who cleaned houses, cooked, and took in laundry.
After school, McCarty would return home to iron clothes, stashing the money she earned in her doll buggy. The three women relied completely on each other, and when the aunt returned from a hospitalization unable to walk, Oseola dropped out of sixth grade to care for her, and take up her work as a washerwoman. She never returned to school.
McCarty scrubbed her laundry by hand on a rubboard. She did try an automatic washer and dryer in the 1960s, but found that "the washing machine didn't rinse enough, and the dryer turned the whites yellow." After years of boiling clothes and then doing four fresh-water rinses, that wasn't good enough to meet her high standards. The machine was almost immediately retired, and she went back to her Maid Rite scrubboard, water drawn from a nearby fire hydrant, and 100 feet of open-air clothesline.
When she retired in 1995, her hands painfully swollen with arthritis, this washerwoman who had been paid in little piles of coins and dollar bills her entire life had $280,000 in the bank.
Even more startling: she decided to give most of it away—not as a bequest, but immediately.
Setting aside just enough to live on, McCarty donated $150,000 to the University of Southern Mississippi to fund scholarships for worthy but needy students seeking the education she never had. When they found out what she had done, over 600 men and women in Hattiesburg and beyond made donations that more than tripled her original endowment.
source: