Robert "Say" McIntosh was a restaurant owner, political activist, and community organizer in Arkansas. He was responsible for many political protests that were statewide news during the time.
McIntosh was born in 1943 in Osceola (Mississippi County), the fifth of eleven children. In 1949, he and his family moved to the Granite Mountain area of Little Rock. McIntosh attended Horace Mann High School, but later dropped out in the tenth grade. He spent much of his early life learning the restaurant business, which led him to establish his own eatery.
He was known to serve homestyle cooking and his famous sweet potato pie. It was not long before he earned the name "The Sweet Potato Pie King of Little Rock." McIntosh first made headlines when he served free Thanksgiving dinner for hundreds of impoverished residents of Little Rock, Arkansas in 1976.  It was thought that he earned the nickname "Say" by never missing an opportunity to voice his opinion or a chance to "say" something about an issue of importance to him or his community. He often used his place as a community leader to try to effect change within Arkansas politics.
McIntosh created Little Rock's Black Santa Claus, and would distribute toys to the needy families and children for years; the act of kindness endeared him to the public, but at times led to personal and financial hardship. His efforts saw him named Arkansan of the Year, and Governor David Pryor made December 24, 1976, Robert "Say" McIntosh Day.
In 1977, McIntosh staged the first of his many political protests. Unhappy at the prospect of liquor sales near his restaurant, he dumped empty bottles of beer and whiskey in the Alcohol Beverage Control Board offices. In 1978, he interrupted a volunteer meeting to protest that there were no black community leaders honored. He even chopped down a tree that had been planted in the honor of Dr. Martin Luther King, Jr. because he said "blacks were not in on the process."
His most public display of radicalism was perhaps his 1990 live-television assault of Ralph Forbes, a white supremacist and Republican candidate for lieutenant governor. He then announced that he would support Forbes in the election.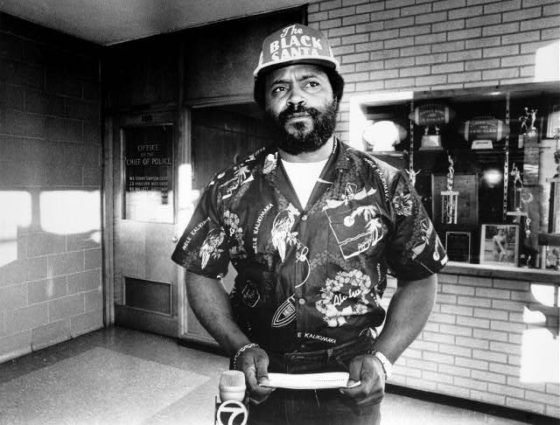 source:
http://www.encyclopediaofarkansas.net/encyclopedia/entry-detail.aspx?entryID=4225&type=Race+%26+Ethnicity&item=African+American&parent=&grandparent=