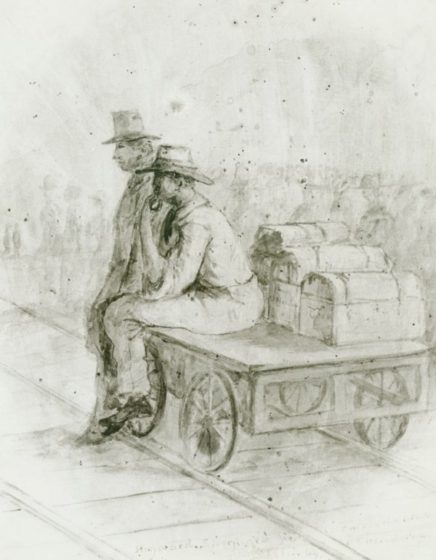 Heyward Shepherd was an African-American killed at Harpers Ferry on October 17, 1859, by John Brown's raiders.
Shepherd was a porter at the local railroad station and a property owner in nearby Winchester, Virginia. Brown and his men killed Heyward Shepherd, who was a free black man. Shepherd's home was in Winchester, about thirty miles away in Frederick County, Virginia, where he owned property and where his wife and children lived.
When away from home Shepherd spent most of his time in Harpers Ferry, where he worked as a porter in the local train station. In addition to handling baggage, Shepherd attended the railroad office when the station agent was absent. From all accounts, Shepherd was well regarded by those who knew him. One prominent county resident noted that Shepherd was "always remarkably civil" and "very trustworthy." Another man described Shepherd as a "courteous, attentive, honest, and industrious" a man who was "respected by all.
On the evening of October 16, John Brown approached Harpers Ferry, Shepherd was at the train station. Accounts vary as to the precise details of how and why Shepherd's life crossed paths with those of the raiders. However, they all agreed that about 1:30 a.m. on the seventeenth, shortly after the Baltimore and Ohio (B&O) express train arrived from Wheeling, Virginia (now West Virginia), Shepherd walked to the Potomac River railroad bridge where he was confronted by two of Brown's men. Ignoring their order to halt, he turned and ran, but the armed raiders fired, striking Shepherd in the back just below the heart.
Although seriously injured, Shepherd made his way back to the railroad office, where he lingered "in great agony" for nearly half a day before dying early on the afternoon of October 17. After the raid, newspapers reported about the shooting of Shepherd. One report told of John Brown's purpose but refused to join the raiders, thus suggesting his refusal to heed their orders showed his opposition to their goals. In a different vein, years later, a former resident of Harpers Ferry suggested Shepherd may have helped the raiders initially but later changed his mind when the danger and likelihood of failure became clear. Shepherd's deathbed explanation that he went to the bridge in search of a missing railroad watchman suggests he was shot by men he did not recognize and whose purpose he did not know.
Militia groups and white citizens accompanied Shepherd's body through Winchester to its burial place in October 1859. The group did so because they believed a black man knowingly refused to join Brown's war on slavery. In reporting on the funeral, the local newspaper in Shepherd's hometown underscored Shepherd's race when it specifically reminded readers that Brown's first victim was a black man.
After his death, as a free black man killed by abolitionists during the raid, he became a symbol to people who believed John Brown's mission had been wrong, because he was shot while at his job. He also symbolized blacks loyalty to the South.
When Frederick Douglass delivered an oration on Brown at Harpers Ferry in 1881, the Virginia Free Press editors stated they would not let the "negro-worshipers" forget that "the first victim of the old murderer was an inoffensive, industrious and respected colored man, brutally shot down without provocation or excuse." In 1884, when blacks voted "almost to a man" for the Republican party, William Gallaher, now sole editor of the Virginia Free Press, gave notice that he would not let blacks forget the first victim during Brown's raid.
In 1920, the United Daughters of the Confederacy and the Sons of Confederate Veterans decided to erect a memorial to Shepherd. Opponents were concerned over the intent of the monument, then called the Faithful Slave Memorial, and delayed its placement at Harpers Ferry for a decade. The Heyward Shepherd Memorial finally was sited near the scene of Shepherd's fatal wounding and dedicated on October 10, 1931.
sources:
http://articles.baltimoresun.com/1995-09-03/news/1995246078_1_brown-raid-monument-john-brown
http://www.shenandoahatwar.org/history/heyward-shepherd/