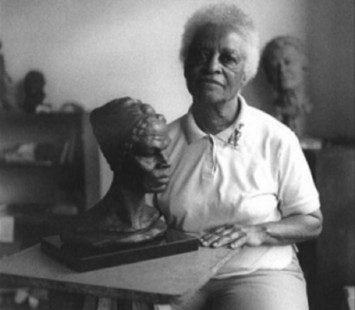 Ruth Inge Hardison was an African American sculptor, artist, and photographer, known particularly for her 1960s busts entitled "Negro Giants in History."
Hardison was born in Porthsmouth, Virginia in 1914. She later moved with her family to Brooklyn, New York. After completing her primary education, she studied music and creative writing at Vassar College. She also studied at the Art Students League of New York and Tennessee State University.
Hardison appeared in the Broadway Productions of George Abbott's "Sweet River" and "Country Wife," opposite Ruth Gordon. During her brief career in the theater, she began sculpting as a hobby. When she took part in the yearlong "What A Life" production, she even created a sculpture of its cast, later displayed at the Mansfield Theatre. Her artistic productions largely surrounded historical black portraiture, and she was especially interested in creatively representing the unspoken voices of the African American past. She was the only female in the Black Academy of Arts and Letters (BAAL), a group that encourages awareness of Black artistic accomplishments, when this organization was founded in 1969.
The works of Hardison largely begin as clay, wax, or plaster molds, and are later cast into cast stone or bronze. She began "Negro Giants in History" (a series of cast iron busts) in 1963. Her first bust in that series was of Harriet Tubman, which measured eight inches in height; she has also created busts of W. E. B. Du Bois, Paul Robeson, George Washington Carver, Frederick Douglass, Rev. Dr. Martin Luther King, and numerous of others.
Ruth Inge Hardison died on March 23, 2106, she was 102.
sources:
http://www.freemaninstitute.com/ingebio.htm
http://aaregistry.org/historic_events/view/inge-hardison-has-creative-soul