Tullahassee is considered the oldest surviving All-Black town of Indian Territory. The town was located five miles northwest of Muskogee in Oklahoma. There were more than fifty All-Black towns located in the state.
The community originated in 1850 when the Creek Nation built a school along the ruts of the Texas Road. Near the school, the population of Creek freedmen increased while the population of Creeks declined. The council transferred the American Indian students to another school and gave Tullahassee to the freedmen on October 24, 1881. The town was incorporated in 1902 and platted in 1907.
A post office opened in 1899 and Professor Willis served as the first postmaster. The Missouri, Kansas, and Texas Railway line ran through the town, helping to attract settlers. Community growth was aided by the Tullahassee Town Site Company, which solicited residents throughout the South. A. J. Mason served as president and L. C. Hardridge as secretary.
In 1916, Flipper Davis College was founded by the African Methodist Episcopal Church. It was the only private institution for African-Americans in the state, at Tullahassee. The college managed to keep its doors open until the end of the 1935 session.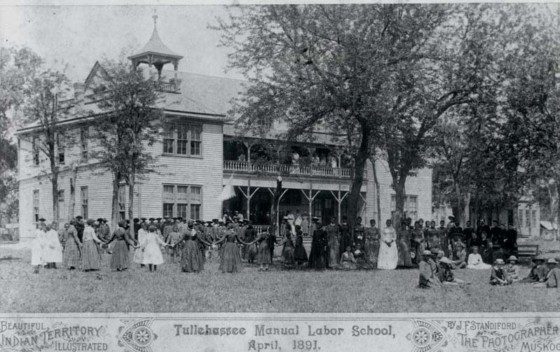 sources:
http://tulsahistory.org/learn/past-exhibits/all-black-towns-of-oklahoma/
http://www.okhistory.org/publications/enc/entry.php?entry=TU002
http://www.oklahomaconferenceofblackmayors.org/Tullahassee.html