Slim Gaillard was a singer, guitarist, pianist, tenor saxophonist, and composer. He made a name for himself as one-half of the famous Slim & Sham, with bassist Slam Stewart.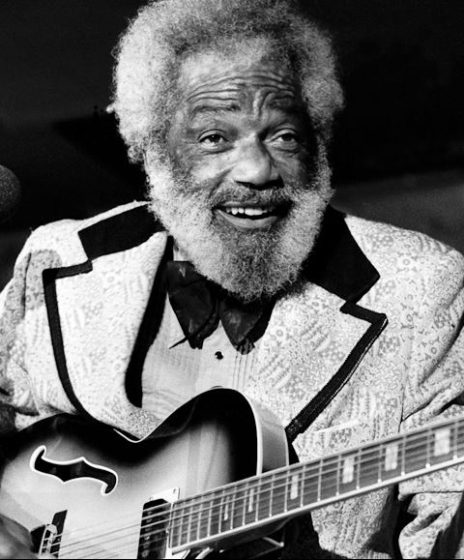 Gaillard was born in Detroit on January 4, 1916. A big part of Gaillard's childhood was spent in Cuba cutting sugar-cane and picking bananas, as well as occasionally going to sea with his father. At the age of 12, he accompanied his father on a world voyage and was accidentally left behind on the island of Crete.
In the mid-1930s, he emerged in a big way as part of a variety act, which consisted mostly of tap dancing and playing his guitar. From 1938 to 1943, he did the Slim & Slam act with Leroy Eliot "Slam" Stewart on a WNEW radio show. Gaillard's routines centered around humor and wordplay, as he entertained on such subjects as food, machinery, and nonsense.
After forming Slim and Slam with Stewart in the late 1930s, he rose to prominence with hits such as "Flat Foot Floogie (with a Floy Floy)" and "Cement Mixer (Put-Ti-Put-Ti)."
Gaillard was noted for his comedic singing and his use of "Vout-O-Reenee," a language he created and for which he constructed a dictionary. Not only did he invent his own personal vocabulary, he was also a polyglot and spoke several languages with varying degrees of fluency.
During World War II, Gaillard served as a bomber pilot in the Pacific. In 1944, he resumed his music career and performed with notable jazz musicians, such as Charlie Parker, Dizzy Gillespie, and Dodo Marmarosa.
In the 1980s, Gaillard resumed touring the circuit of European jazz festivals. He followed Dizzy Gillespie's advice to move to Europe and settled in London in 1983. After a long career in music, film, and television, he died in London on February 26, 1991.
sources:
http://aaregistry.org/historic_events/view/slim-gaillard-entertained-variety
https://en.wikipedia.org/wiki/Slim_Gaillard