Wallace Rayfield was a legendary craftsman who was the second in the nation to be licensed, as well as the first black architect in Alabama. He worked alongside Robert Taylor, the first licensed black architect in history, as the two of them taught at Tuskegee Institute under Booker T. Washington. Rayfield's work as an architect consisted of designing the most significant buildings in civil rights history, including 16th Street Baptist Church and Ebenezer Baptist Church.
Rayfield attended school in Macon, Georgia, before relocating to Washington, D.C., after the death of his mother. He worked as an apprentice at an architectural firm while attending Howard University. He completed a graduate certificate program from Pratt Institute before earning his bachelor's degree in architecture from Columbia University in 1899.
Booker T. Washington recruited Rayfield to the Directorship of Architectural and Mechanical Drawing Department at Tuskegee Institute in Alabama. Complaining of low wages, but perhaps motivated by the treatment given to colleague Wallace Pittman, Rayfield decided to open a professional office in Birmingham. Before officially leaving Tuskegee, he had already launched a business marketing mail-order plans nationwide. He also advertised "branch offices" in Birmingham, Montgomery, Mobile, and Talladega, Alabama as well as in Atlanta, Savannah, Macon, and Augusta, Georgia. In that same year, he married his first wife, Jennie Hutchins, a Tuskegee student from Clarksville, Tennessee.
Rayfield was responsible for designing thousands of structures across the United States. He enjoyed a successful career as an architect for more than 20 years. His business slowed down after the Great Depression of the 1930s, which forced him to close his business. He died in 1941.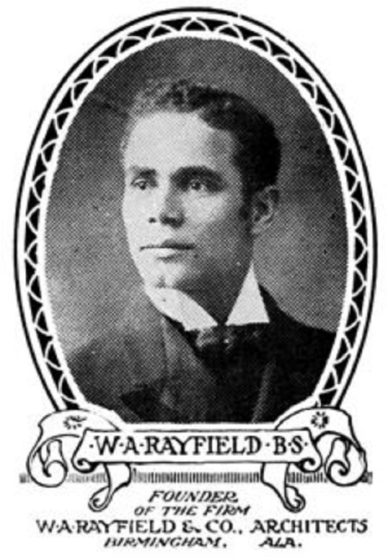 sources:
http://www.bhamwiki.com/wiki/index.php?title=Wallace_Rayfield